Rajasthan: Doctors arrests rise to 14, Govt gets nurses to prescribe medicines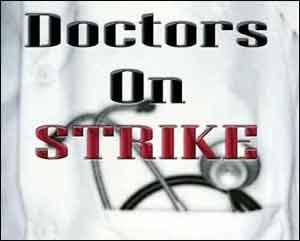 Jaipur:Fourteen doctors have been arrested in the state till this evening under the Rajasthan Essential Services Maintenance Act (RESMA) as the deadlock between them and the government entered its sixth day.
ANI reports that 100 doctors agreed to resume their work, the state police launched a search operation on Thursday evening for the rest, arresting six doctors on Thursday and eight on Friday.The doctors were arrested from Tonk, Jaipur, Kota, Swai Madhopur, Bharatpur, Jhalawar and Banswara districts, ADG (Law and Order) NRK Reddy said.
The arrests came after the deadline set by the government for the medical practitioners to resume work expired yesterday evening, the officer said.
Meanwhile, Rajasthan Health Minister Kali Charan Saraf called the agitating doctors for talks tomorrow at 2 pm to find solutions to their problems. He held All Rajasthan In-Service Doctors Association president, Dr Ajay Chaudhary responsible for the strike.
"Dr Chaudhary seems to have some personal interest... he is trying to create hurdles in breaking the deadlock. He is being guided by someone," the minister had alleged.
"The state government has assured that doors for talks are open and it was committed to find solutions to the problems," the official release said, adding that ample arrangements have been made so that health services are not affected.
The state's medical and health department also issued a notice today in newspapers to the agitating doctors, claiming that the strike was against the high court's order.
In Kota, 57 senior resident doctors today announced to join the statewide strike by tomorrow morning, a move that could hit services at the Kota Medical College and the Maharao Bheem Singh hospital, the biggest medical facilities of the region.
However, medical college authorities have asked the doctors, selected through the Rajasthan Public Service Commission (RPSC), to resume duty or face termination.
Senior resident doctors of the Jhalawar Medical College, however, have stayed away from joining the ongoing strike, while Dr Hariom Goyal today resumed duty at the government hospital in Baran district."We have not received any notice or information from senior residents regarding their joining the ongoing strike," said Dr R K Asariya, Dean, Medical College Jhalawar.
Nurses To Prescribe Medicines
Desperate to keep the health services running in the absence of medical practitioners, the health department at some places were seen empowering nurse posted at the Primary healthcare to write prescription and treat patients.  The health department at Chittogarh, immediately passed an order directing Nurses Grade 1 and Grade 2 ( senior) to write prescriptions, provide treatment and refer patients to high centres in the absence of doctors