Return to Work or face Contempt of Court, Arrest: Govt to Striking Doctors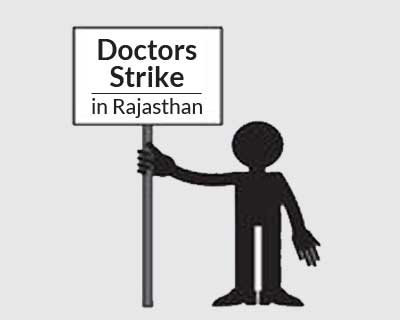 Jaipur With the Rajasthan Doctors strike entering the 4th day after another round of failed negotiations with the government, the State Government today was seen threatening the striking doctors to return to their duties by 7 pm, adding that strict action would be taken if they do not comply, reports 
ANI.
Moreover, Rajasthan High Court, responding to two PILs in the matter of doctor's strike issued a notice to the state government on seeking the government reply by November 15 . The court further directed the state government asked the doctors to send a notice personally asking them to return to work adding that if the doctors do not return to work even after this, then it shall be  considered as contempt of court.
Siding with the government medical practitioners in the state, the Bench of Justices KS Zaveri, Mahesh Sharma and Dr. Abhinav Sharma cited the example of SMS Hospital which receives more than 800 patients and where doctors faced heavy workload. Do they have no choice but to strike? observed the court
Responding to the observation , the petitioner maintained that the workload is also there in the army and the police. The High Court then issued a notice to the state government asking for a reply by November 15.  Now, the case will be heard on November 15.
In his petition, petitioner Dr. Abhinav had said that the High Court had declared the strike of doctors in 2011 as unconstitutional, hence doctors cannot go on strike now
Court Order


The High Court asked the government to issue a notice to all the doctors personally and return to work. if they do not return to work, then it is shall be considered to be a contempt of court.


 The court directed that the government will make a committee to meet the reasonable demands of the medical practitioners , but by then they will have to return to work


The court asked Solicitor general, NM Lodha, to present a list of doctors till November 15 detailing how much salaries are being given to the doctors.