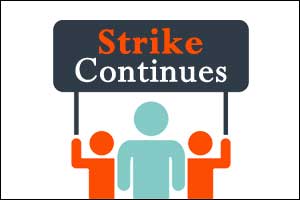 Rajasthan: The Doctors strike in Rajasthan entered into the third day with 19 more medical practitioners being arrested today from different districts under the Rajasthan Essential Services Maintenance Act (RESMA). Medical and health services remained crippled in the state as the state's doctors refused to return to duties due to their unfulfilled demands and opposing the rising arrests of doctors.
PTI reports that the official number of arrested doctors as 84, however doctors present in the state on the condition of anonymity informed Medical Dialogues that more than 100 have been arrested, with the police arresting any medical practitioner who refuses to join duties
The Doctors announced the strike after the Rajasthan government invoked the Rajasthan Essential Services Maintenance Act (RESMA)  on more than 10,000 thousand doctors. The notification came in the wake of the All-Rajasthan In-Service Doctors Associations decision to indefinitely strike work from December 18 over various demands. However the strike came in earlier than announced as a knee jerk reaction of doctors when the government arrested 52 doctors as preventive arrests under RESMA.
Read also: RESMA on 10,000 Doctors in Rajasthan
Even as the strike moved on to the third day, all senior representatives of the All Rajasthan in Service Doctor Association (ARISDA) are untraceable with their phones switched offFearing arrest, all office bearers of the all- Rajasthan in-service government doctors association remained unavailable for their comment.
Read also: Rajasthan Doctors Strike: Rs 1 crore Surety for bail demanded from arrested doctors, 100 arrests so far
5 comment(s) on Rajasthan Doctors Strike Day 3: 19 more arrests but doctors refuse to back down