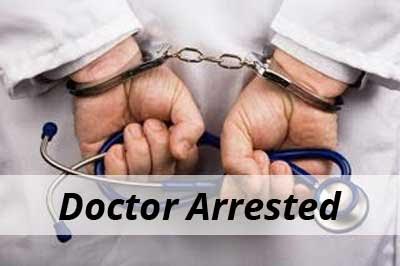 Jaipur:  Health services were hit today in Rajasthan, especially in rural areas, after more than 10,000 government in- service doctors went on a mass leave over various demands, including hike in allowances. Apart from the 33 demands doctors were also seen protesting against the arrest of 55 doctors under the Rajasthan Essential Services Maintenance Act (RESMA) which was undertaken by the government as " Preventive Arrests".
The RESMA was invoked on Thursday by the Rajasthan government after doctors warned of a strike on December 18. The government further went on making certain preventive arrests ahead of the strike. However, the arrests prompted the doctors to go on strike much earlier, instead of the proposed date.
"Fifty-two doctors have been arrested from various parts of the state under the RESMA since last night," ADG (Law and Order) NRK Reddy said here. This number has gone up to 55 with 17 doctors being sent to judicial custody, according to some media reports.
"They cannot boycott work or go on strike when the RESMA is in force," he said
Doctors have alleged that the Rajasthan government did not fulfill the promises made to them during a strike last month and accused it of taking vindictive action.
"The government instead of executing its promises took oppressive action against us. Our people were arrested.
Senior doctors were dragged out from their houses and the state government is responsible for provoking the strike," president, All Rajasthan In-Service Doctors Association, Dr Ajay Chaudhary, said in a WhatsApp video. The Senior ARISDA members are now hiding in undisclosed locations to avoid further arrests.
There are close to 10,000 in-service government doctors in the state, which are now boycotting duties.
25 comment(s) on Rajasthan Govt arrests 55 Doctors, Medical Practitioner go on statewide Strike