Rajasthan: Luxury Tax on Hospitals, court issues notice to state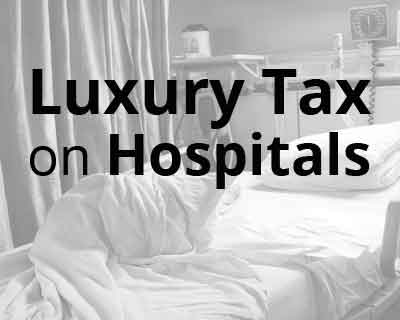 Rajasthan: A few months after the Karnataka Government was forced to withdraw its controversial order on luxury taxes, the issue of Luxury taxes on hospitals has surfaced again. This time, the issue has been raised in the state of Rajasthan, where the state high court has issued notices to the principal secretary, finance and commissioner of commercial tax department on the matter.
This comes after a petition was filed by Fortis Hospitals against the imposition of luxury taxes on hospitals. The counsel for the hospital explained that while there had been a notification imposing luxury tax on rooms in hospitals, that are charging more than Rs 3000 per room since 2008, the department had only recently decided to press on the tax.
The counsel further argued that healthcare cannot be taken as a luxury as people go to hospital out of compulsion and not by choice like a hotel reports EThealth. Besides it was argued that there is no provision in the Act for imposing such a tax on hospitals. Even the central government had waved off the service tax on hospitals as health care is an essential service not a luxury.
The court has now directed the respective departments to reply to the notice by 29th September.
It is reported that this is not the first time that a state government has issued an order imposing luxury taxes on hospitals. In the month of January 2016, Karnataka government had also passed an order imposing luxury tax on ICU admissions. The order had met with immediate disdain from the medical fraternity as well as the general public, forcing the government to retract the order.