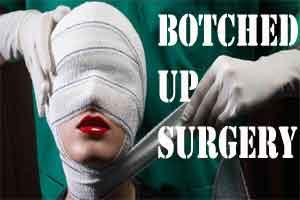 Cataract operations in a local trust run hospital in Rajkot has resulted in 11 people loosing their sight in one eye. Health Minister Nitin Patel has reportedly sent a team to investigate and enquire about the alleged incident.
This local private hospital is run by a trust of Sindhi community in Gaikvadi area of Rajkot.
A total of 25 people underwent operation on December 21, and after they reported for post operation check up in two days, there were continuous complaints of sight loss and other eye problems.  When they came up for post operation check up on December 23, eleven of them complained of sight loss and other problems in their operated eye.
In the interim, before the investigations are completed, the operation theater of the hospital is reportedly sealed.
As reported by a local daily, Mr. Patel said that primary investigation has shown that it was a case of eye infection post operation. 'If the need be the affected ones will be brought to Ahmedabad for better treatment,' he said adding that as per his information only two people had more serious infection.
The minister said that the small hospital used to conduct 300 to 400 such operations every year but no complains were reported earlier. The whole matter was being looked in to.
'The operation theater of the hospital has been sealed for thorough investigation,' Mr. Patel said.
0 comment(s) on Rajkot: cataract operation botched up