Ranchi: Documentation of all referral patients at RIMS from now on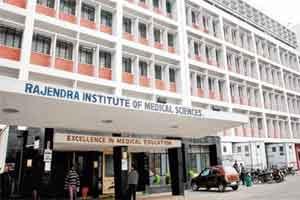 Jharkhand: RIMS Ranchi is now following the practice of documenting all its referral patients to streamline their internal process. It will now officially record the referral patient inflow, to collect exact data on district health centre's approach for patient care.
Rims is reported to have issued instructions to each department, including the emergency wing to use digital means to follow the new procedure set in. All departments will now be required to document the patient's complete history. More importantly, this will include the details on referring hospital and the exact condition of the patient during admission to the hospital.
"Overcrowding has become a major problem. While we cannot turn down a patient, there are people who are referred to the hospital with minor cases like diarrhoea from other districts where health centres are prevalent," Rims director Dr B L Sherwal told TOI.
A professor from a Rims department in addition implied on the matter they get a lot of minor referral cases from various health centres and district hospitals. Doctors cannot take complete responsibility of all.
Another faculty member implied that patients report to Rims as they do not find doctors at other health clinics.
The documentation procedure is expected to continue for the next two months. After which, the consolidated data will reach the state health, education and family welfare department. It will also help in better utilization of beds in otherwise overflowing wards.
"Each department has to have a specific number of beds for academic purposes as mandated by the Medical Council of India. After the basic criteria is fulfilled, extra beds will be provided to those wards where patients sleep on the floor," a Rims official said on condition of anonymity to TOI.
RIMS is also seeking renewal of 60 MBBS seats at the medical college. Only recently, the MCI inspection team visited the hospital block, operation theatres, intensive care units and general wards of various departments. Rims director Dr BL Sherwal had reported that there were only minor concerns noted by MCI. However, shortage of faculty is needs to be addressed on priority. The MCI headquarters is expected to hand over its final report to Rims management soon.