Sureons at Sassoon General Hospital remove 206 gall stones from a patient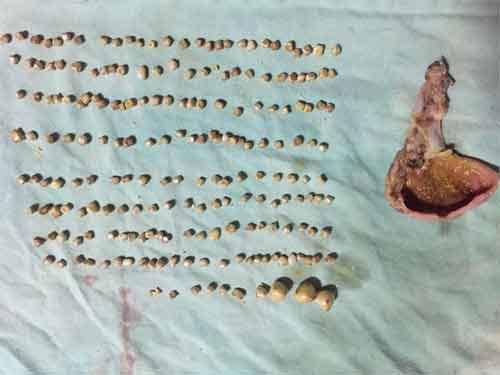 Pune : Surgeons, at the Sassoon General Hospital, recently removed 206 stones from the diseased gall bladder of a patient recently.
The patient, a 28 yrs old female resident of Bihar came to Sassoon General Hospital's General Surgery OPD for recurrent abdominal pain. After going through relevant investigation USG-Abdomen she was diagnosed with Gall Bladder stone.She was admitted under Dr. Vandana Dube, Professor, it was decided to perform laparoscopic surgery for the gall bladder removal.
The diseased gall bladder was removed laparoscopically  and was found to be having 206 stones. Incidence of such large no of gall stone is less than 0.1 % and very few cases of such large no. of stone to be removed laparoscopically have been reported.
Laparoscopy Surgery are being performed in very few Govt. Hospitals in the state and Sassoon General Hospital is one of them. Such a surgery can cost upto 1 lac. Rs. in private hospitals. Laparoscopy surgery has advantanges of having minimal complication, less blood loss, early recovery and minimal post operative pain and the patients can be discharge next day after surgery.
Under the guidance Dr Ajay Chandanwale Dean, BJGMC& SGH Pune Dr. Sudhir Dube, HOD, Dept. of Surgery, Dr. Vandana Dube, Head of Unit Surgery along with her team Dr. Sachin Balwantkar, Dr. Santosh Thorat, Dr. Kushal Agrawal, Dr. Shivayak Mishra, Dr. Omkar Sahindrakar, Anaesthetist Dr. Rohit Sancheti, Dr. Hariharan & Staff Nurse Monika Shinde have performed this rare surgery of one & half hours duration