Refusal to Treat after altercation with attendants: KGMU suspends resident neurosurgeon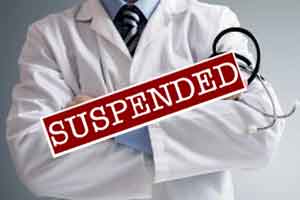 Lucknow: A resident doctor associated with Department of Neurosurgery at the prestigious at King George's Medical University (KGMU) has been suspended after the alleged medical negligence in the management of the case of an accident victim.
According to media reports, 23-year old boy met road traffic accident (RTA) after which he was immediately brought to the KGMU trauma centre. The victim was accompanied by a person who had verbal clash due and allegedly due to which the doctor denied treatment. The family alleged that even after apologizing several times, the doctor did not turn up because of which the accident victim died.
Read Also: 
Allegations of Crosspathy, Negligence: Medical Council Suspends Doctor for 3 months
Victims father alleged to the
TOI
, "The doctor kept asking us that the man who had exchanged words with him be called to give an apology first and then treatment would begin. My son stayed on the stretcher the entire night and died at 7am on Monday. We kept apologising but he did not deter. We have shared the audio recording of the incident with the KGMU administration."
The audio recording of the alleged incident has been submitted to the police at the time of filing complaint.
After the victim died, the family staged a protest with the dead body on road. They said that if the doctor would have kept ego aside and turned up to provide treatment, the victim would have survived.
The Chief Minister, Yogi Aditya Nath condemned the incident and asked to probe on the matter, reports Jagran. A four member-committee has been formed, however, it failed to reach a conclusion in the matter in the prescribed time. Meanwhile, the Vice Chancellor of KGMU, considering the audio clip provided in support of the complaint decided to suspend the doctor, till the pendency of the case.
The KGMU medical in charge Professor Santosh Kumar informed that an investigation will be done on the matter. If found guilty then action will be taken against him, he told 
Jagran
Read Also: Unnecessary surgeries, Negligence : Delhi hospital directed to pay 21 lakh as compensation