Regulating Caesarean Sections conducted by Private Hospitals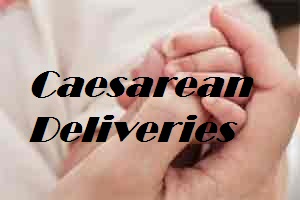 New Delhi
: Recently, through a written reply to a question in Rajya Sabha, Minister of state (Independent Charge) smt Anupriya Patel informed about the Regulating Caesarean Sections conducted by Private Hospitals.
According to National Family and Health Survey (NFHS 4) released in 2015-16, the percentage of births by caesarean section in private health facilities in Delhi was 42.9% while in public health facilities, it was  21%.
Caesarean section is one of the most common surgeries in the world and is also a life-saving surgery for the mother and the child. It is assumed that 15% of the pregnancies will land into a complication and will require surgical intervention. WHO in its statement released in April 2015 states that at the population level, cesarean section rates higher than 10% are not associated with reductions in maternal and newborn mortality rates. As in other surgeries, caesarean section deliveries also have inherent risk of surgical and anesthetic complications.
The Government is taking the following steps to regulate and monitor C-section in public and private hospitals:


A communication vide OM M.12015/182/2015-MCH has been sent to all the State Principal Secretaries and Mission Directors of all States and UTs urging them to share the WHO statement with all the Obstetricians and Gynecologists working in their respective states. In addition, States have been suggested to conduct periodic prescription audits in private sector which could also be extended to the public sector.


A government of India also has written vide OM M.12015/182/2015-MCH to Federation of Obstetrical and Gynecologists in India (FOGSI) to share the WHO statement among the Obstetricians and Gynecologists under the umbrella of FOGSI.




Caesarean Section rates in public and private facilities are also being monitored through HMIS, which captures cesarean sections occurring at both public and private institutions. The issue of cesarean sections on HMIS data, if found high, is flagged during the state review meetings and are urged to look into the issue.


The Government of India has enacted the Clinical Establishments (Registration and Regulation) Act, 2010 with the objective of registration and regulation of health care institutions including those in the private sector. Health being a state subject, the States are advised to effectively implement the Act.


All CGHS Empanelled hospitals are directed to display the information regarding ratio of deliveries by Caesarean section vis-à-vis normal deliveries. A communication was sent in this regard vide OM Z15025/2017 to all the CGHS empanelled hospitals.