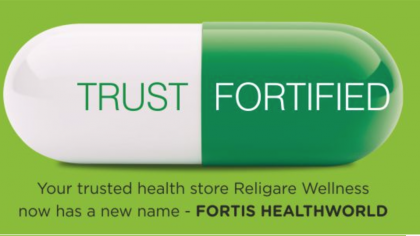 RWL Healthworld Ltd., one of India's leading healthcare retailers has re-branded its stores as Fortis HealthWorld. These stores were previously re-branded as Religare Wellness.
The new brand Fortis HealthWorld will continue to deliver on the complete Health Store experience by offering best-in-class pharmacy, OTC and wellness products.
The brand currently works with a network of 100+ stores across Delhi/NCR, Bangalore & Pune and simultaneously running an e-commerce portal, https://www.fortishealthworld.com/, dealing in  medicines, beauty, wellness and personal care products such as baby care products, face and skin care range, home and living utilities as well as diabetic solutions.
"The brand transition has taken place at the store level and we will shortly be releasing our print media campaign to announce the brand change as well" – said Rahul Chadha, CEO, Fortis HealthWorld.
"We are also working closely with our digital marketing partners to effectively increase the scale of our online operations through our e-commerce portal https://www.fortishealthworld.com/" added Rahul Chadha, CEO, Fortis Health World.
The company has been working to leverage the online platform to provide its customers the ease of purchasing health and wellness products at their convenience along with ready delivery of orders at their doorstep.
The company is working heavily to promoting its e-commerce portal fortishealthworld.com and within the process capitalise on the existing network of pharmacies. As per the press release, Fortishealthworld.com has been founded with a vision of extending discerning online store services and an exciting assortment of wellbeing products, to its customers, at the click of a button.
0 comment(s) on Religare Wellness rebranded as Fortis HealthWorld