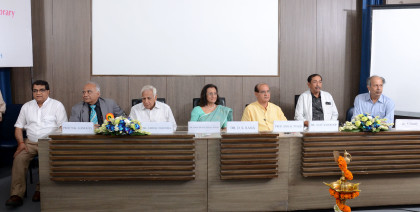 In a first, the hospital unveiled stem cell producing facility (cGMP)
New Delhi, September 19: The research profile of Sir Ganga Ram Hospital (SGRH) has received a huge boost with its research department chairman Dr. N.K. Ganguli being picked up as Chief of World Health Organization (WHO) advisory committee on Health Research for South East Asia region.
The new found status could prove a force multiplier for SGRH, which is already rated highly among top hospitals for its prime importance that it gives to health research. This was unexpectedly announced by Dr. Poonam Khetrapal Singh, regional director, South East Asia while inaugurating Stem cell producing facility and research day celebrations at the hospital.
With this facility SGRH becomes the first stem cell producing hospital in India. The stem cell producing capacity of the hospital is all set to get DCGI approval either. Earlier only companies used to produce stem cells. The dignitaries, all policy experts on health research, gave thumbs up to the quality of research being done in the facility.
Dr. Khetrapal red flagged a total disconnect between health research and policy making in India. She stressed the need for this deficiency to be plugged to make research people centric. She said, 'The government of Indian should leverage health research for making Universal Healthcare to the poorest of the poor of the country a reality. Health research is worth only if it is oriented towards policy making. The research should focus on health security, under nutrition, anti microbial research. We have to focus on implementable research so that it can improve life. '
Anil K. Tyagi, Indraprastha University Vice Chancellor and a renowned expert on Bio-chemical research, applauded SGRH's focus on research along with treatment of the patient. He said a hospital could distinguish itself as a treating facility only through good research. He said he was overwhelmed to hear allocation of one crore rupee budget for library in SGRH. Such library is the mark of a good researching facility.
Dr D.S.Rana , Chairman , Board of Management , expressed hospital's avowed aim to make itself as a sought after destination for education and research to match with its unique and unparalleled delivery system in the country.
Dr N.K.Ganguly , Chairman  , Department of Research said, 'cGMP (current Good Manufacturing Practice) facility will currently focus on research. After approval by  Drug Controller General of India (DCGI),  it will be used to study the safety and efficacy of Mesenchymal stem cell therapy option in diseases like Living donor liver / kidney transplant, Vascular diseases , Diabetes , Orthopaedic and Cardio-Vascular diseases .'
He further said, 'In our facility Mesenchymal Stem Cells (MSCs) will be derived from bone-marrow, Umbilical Cord and fat tissues. MSC are adult stem cells which can differentiate into various specialized cell types under certain physiological conditions. Due to the limitation of genetically induced stem cells in the clinic, great interest has developed in MSCs, which are free of ethical concerns. They can be easily isolated from the bone marrow, fat tissue, the umbilical cord, fetal liver, muscle and lung and can be successfully expanded in vitro. They possess self-renewal ability.'
0 comment(s) on Research at Sir Ganga Ram Hospital (SGRH) Packs a WHO Punch