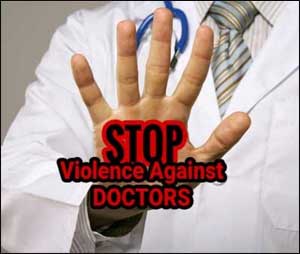 Maharashtra: A resident doctor at the civic-run Sion Hospital here claimed on Wednesday that he was manhandled by the relatives of a 70-year-old woman who died during treatment on Monday evening. Around 30 resident doctors stopped work in protest after the college authorities allegedly did not lodge a police complaint.
The woman had been admitted to the hospital for kidney and heart ailments. Her condition worsened on Monday evening. The Maharashtra Association of Resident Doctors (MARD) said that even as the doctor was treating her, her relatives started crying and created a ruckus.
Also read:- Controversy over shaving of beard of Muslim patients in Civic hospital
"Soon there was a mob of 20-25 people in the ward, shouting and charging at the doctor. The doctor got scared and ran away," said a member of MARD. "When we demanded that college administration register an FIR, they called it a small incident and refused to lodge a police complaint," he alleged.
Hospital dean Dr Mohan Joshi, however, said the matter was being blown out of proportion. "One of the relatives was grieving as the woman had died. She was beating her chest and touched the doctor. There was no violence or manhandling," Joshi said.
Also read:- Increase Maximum age of Senior Resident as per MCI draft: Madras HC directs Centre
"But a police complaint has been lodged now," the dean said, adding that the hospital's functioning was not affected. Resident doctors staged a protest by queuing outside the psychiatry OPD of the hospital.
Also read:- Delhi Doctors Welcome National Medical Commission, demands revision of CGHS rates
"Through this silent protest we wanted to convey that we work in an atmosphere of fear," a MARD member said.
0 comment(s) on Resident doctor manhandled, Doctors stop work after College allegedly does not file complaint