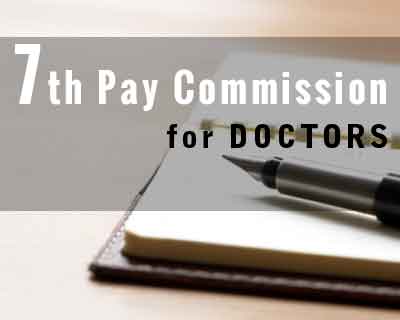 Partial Implementation of the 7th Pay commission leaves out resident doctors
New Delhi: Resident Doctors working with the Delhi government hospitals have threatened to go on a mass leave from the 17th January, 2017 as the government is yet to pay them according to the 7th Pay commission.
The 7th pay commission has been implemented to govern the pay scales of officials working with the government, effective from the date of 1st January 2016. With the Delhi government adopting the recommendations given by the commission, doctors and other healthcare workers are also to be paid according to the new pay scales. Federation of Resident Doctors Association (FORDA), President Dr Pankaj Solanki informed Medical Dialogues team that while other healthcare workers employed in the state government hospitals are being paid according to the new recommendations, for reasons unknown, the resident doctors have been kept out of its purview.
" Doctors employed with the government, including professors, associate professors, assistant professors and even nurses have been receiving their salaries according to the 7th pay commission since the month of October 2016. We don't know why but the resident doctors are not being extended the same benefit. This is highly unfair." Dr Pankaj said
After sending repeated reminders to the government over the course of last month about the issue Members of FORDA met with the health minister today morning to apprise him of the issue.
" Delhi Health minister has informed us that resident doctors of Delhi Govt will get benefits of 7th CPC. We have asked for a formal meeting for the same before 17th of January, 2017 and formal order for disbursement of salary and arrears as per 7th CPC. However, if the government does not agree to our demands, we will go on an indefinite strike from 17th January, 2017, " Dr Pankaj added
1 comment(s) on Resident Doctors in Delhi threaten mass leave on 7th Pay Commission