Resident Doctors more prone to needle stick injuries: AIIMS Study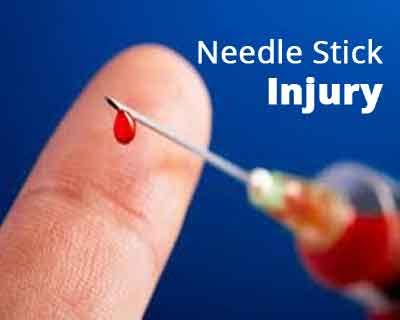 New Delhi: Majority of doctors stand at a risk of needle-stick injuries and its associated complications, a new study by AIIMS has revealed. Moreover, this risk is much higher for resident doctors working in emergency wards and intensive care units, the study added.
The observational prospective study, whose results have been published in Journal of Laboratory Physicians,  was done on the healthcare workers of a tertiary care academic health organization of North India from January 2011 to December 2013. At the time of self-reporting of injury, a questionnaire was administered. Blood sample of health care workers and of the source, if identified, was collected for baseline HBV, HCV, and HIV serum markers. The exposed health care workers were followed up and repeat testing was done after 3–4 weeks for seroconversion up to 6 months. The study revealed the following results :


Amongst all the HCWs, doctors suffered the most from needle stick injuries ( 73.7%). A further break-up of this figure showed resident doctors constituted 91.4%, followed by interns ( 7.4%), and faculty members ( 1.1%).


 Only 19.1% nurses reported injuries, while 3.2% of the exposed HCWs were hospital waste disposal staff, not involved directly in patient care or surgical procedures.


Emergency wards and Intensive Care Unit (ICU) were the most common place of occurance for the needle stick injuries.


Percutaneous injuries (96.0%) were more common as compared to mucocutaneous exposures (4.0%).Most of the percutaneous injuries ( 70.8%) were superficial.


The fingers were the most common injury site (94.8%). Left-hand side was most commonly involved ( 65.1%) of which left index finger was the most common (65%) site.


Only  58.4% of the HCWs were using personal protective equipment egs gloves, masks, and gowns at the time of exposure.


Most of the HCWs (97.5%) were vaccinated against hepatitis B virus while (2.5%) were not.


Most of the unvaccinated HCWs were student nurses and a few resident doctors who had joined medical profession recently. Of the vaccinated, (5%) had completed three doses of the vaccine within 1 year, while (3.9%) were vaccinated more than 10 years back.


26.9% of the 464 vaccinated HCWs, anti-HBs antibody titers were <10 IU/ml, means these were nonresponders to the vaccine.


Cleaning the injury site with running water was the most frequently used first-aid measure in over 62.4% of the injured HCWs.Other measures used for immediate management included cleaning with disinfectants such as methylated spirit, hypochlorite, and soap and squeezing the site. About 1.7% of the HCWs did not take any immediate action as the injury was superficial.


"We realised that the prevalence is definitely more in resident doctors, who are inexperienced in handling the needle in operation theaters or emergency rooms. But again, the numbers are much more in reality as the participants were only those who voluntarily reported the injuries to the hospital. Occupational exposures are common and it is believed that 40–75% of these injuries are not reported." Dr Sarman Singh, professor and head of clinical microbiology and molecular medicine at the department of laboratory medicine of AIIMS, and a co-author of the research, told the Hindustan Times.
Needlestick injuries (NSIs) are defined as a penetrating stab wound from a
needle
(or other sharp object) that may result in exposure to blood or other body fluids. The main concern is exposure to the blood or other body fluids of another person who may be carrying infectious disease. NSIs are common and to an extent inevitable in health-care workers  during execution of their patient care services.
The study can be read by clicking on the following link:
http://jlponline.org/article.asp?issn=0974-2727;year=2017;volume=9;issue=1;spage=20;epage=25;aulast=Goel