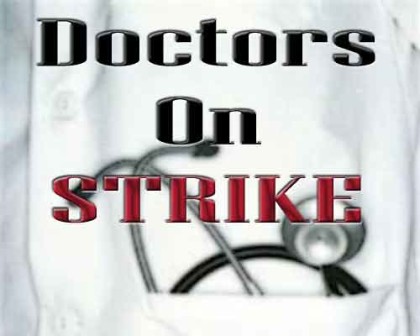 The striking doctors of S N Medical College here against the alleged beating up of their colleagues, were today joined by medicos of the remaining five medical colleges of Rajasthan.
The doctors have announced suspension of work, demanding the arrest of those who allegedly thrashed two of their fellow resident doctors on duty at MDM hospital's trauma centre on Wednesday.
"It's been four daysand we have not received anything except assurance but we would not resume work until arrests are made by the police and we are assured that nosuch incident would ever take place in future," said Kamlesh Sharma, President of Jodhpur Resident Doctors' Association.
On the other hand, patients complained that they have been suffering miserably due to this strike.
The family members of a 10-year-boy Rama, who had undergone neuro surgery two days back at the MDM hospital, protested against the hospital administration after the childpassed away this morning.
They alleged that he had died for want of adequate medical care and instead of ICU, he was shifted in the general ward, where his condition deteriorated and he died.
However, the SN Medical College Principal, Amilal Bhat denied the allegations of negligence.
He said that despite the strike, the boy was properly attended to by a competent doctor.
Meanwhile, the strike has compelled the medical college administration to look for alternatives.
"Besides, our senior doctors and faculties, we have arranged some doctors from district, military and railway hospitals foremergency. Shortage of anaesthetists has also compelled us to take up only emergency operations," Bhat said.
As many as five rounds of meeting of the striking residents with the medical college and police administration today failed to bring them to call off the strike.
0 comment(s) on Resident doctors strike intensifies in Rajasthan