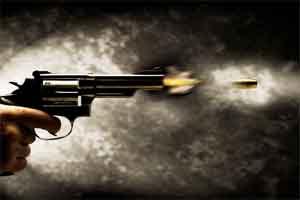 Rewari: The whole medical fraternity at Pushpanjali Hospital, Rewari was stunned after the recent incident of gun firing by the few hooligans who managed to enter the premises for to carry out this act of terror.
It was reported that the goons entered the medical shop in the hospital, with arms in their hand. They scared people present there to sit down after which the culprits started firing on the glass windows of the store. They did not injure or target anyone around but the stampede was created after the gun-firing.
TOI reported that the members of the Indian Medical Association(IMA) had started wearing black band during their work as the sign of protest against the police administration for not catching the culprit of the recent terror gun firing incident that occurred in the Pushpanjali Hospital.
The police were immediately informed about the incident after the culprits escaped from the spot. The Model Town Police Station had registered a case of a murder attempt and Arms Act on the complaint of Dr. SK Sharma, the director of the hospital. The police are investigating the matter through the CCTV footage and assured that the accused will be identified and arrested soon.
The IMA held a meeting after the indecent where the serious security concern was shown by the members after the repeated incidents attacking the security of the medicos.
According to the Jagran report, IMA had handed over a memorandum to the additional police deputy commissioner Pradeep Dahiya against the incident and demanded immediate arrest of the accused.
The president, Dr. Praveen Garg said that incident of attacks on doctors and hospitals had happened on many occasions and association has apprised the administration and the government repeatedly but the government has failed to take any effective steps to provide security to doctors, UNI reported.
It is difficult for medical professionals to work in mental strain in the environment where they are under fear of hooligans and anti-social elements. If the attackers are not arrested immediately, they will be forced to go on a strike, Dr Garg said.
0 comment(s) on Rewari: Pushpanjali hospital firing, Doctors demand arrest or will go on strike