................................ Advertisement ................................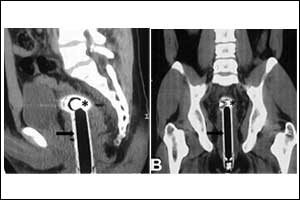 Delhi: A doctor attached to Ram Manohar Lohia (RML) Hospital and Post Graduate Institute of Medical Education and Research (PGIMER) presented a case report in a medical journal, British Medical Journal , about his recent encounter where a shower head was stuck in a patient's rectum.
According to the case report written by Dr Peeyush Kumar, Physician, a 26-year-old man was rushed to the emergency room with a shower head lodged in his anus. The object was approximately 15 centimetres deeps into the patient's pelvis. He was put under general anaesthesia while the doctors removed the shower head.
Luckily for the patient, his examination reports had shown no internal damage by the object and no bleeding was found during the clinical examination. "His vitals were stable and there was no evidence of blood in his rectum," said Dr Kumar.
"The patient was put under and the foreign object extracted. Since there were no signs of infections or any post-surgery manifestations, the patient was discharged," Dr Kumar added in his case report. The patient got released after 48 hours in the hospital, quotes the Inquirer.
................................ Advertisement ................................
In addition, the doctor added that  injuries like these are quite common, all of them stemming from an auto-erotic purpose, accidents and assault. He also said that based on the statistics, most of the patients who end up in the emergency room with foreign objects in the rectum are males in their 30s or 40s.
"History is often ambiguous and incomplete due to a high level of embarrassment and social stigma attached to the condition. The same was seen in our case. Though the patient reported accidental insertion of the shower head and denied voluntary insertion, there is a high suspicion of voluntary insertion for an auto-erotic purpose," Kumar added to his case, reports Asia One.
Garima joined Medical Dialogues in the year 2017 and is currently working as a Senior Editor. She looks after all the Healthcare news pertaining to Medical Education issues, Medico-legal cases, MCI/DCI decisions, government policies as well as all the news and updates pertaining to Medical and Dental Colleges in India. She is a graduate from Delhi University. She can be contacted at editorial@medicaldialogues.in Contact no. 011-43720751
To know about our editorial team click here
................................ Advertisement ................................
3 comment(s) on RML Doctors remove Shower head stuck in patients Rectum