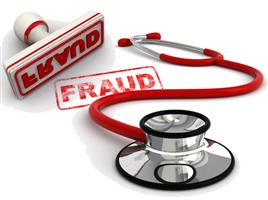 JAIPUR: In a mind-boggling Ponzi investment scam, a doctor has allegedly cheated 90 leading doctors in  the state Rajasthan for over Rs 100 crore. A racket allegedly run by a 38 year old doctor along with finance company officials was recently busted by the special operations group (SOG) of the state.
The matter came to surface following the allegations of several doctors in the city that fraudsters had left after taking them in confidence of paying bulky instalments every month.
A recent report in TOI narrated the modus operandi of the scheme.  The doctors were allegedly enticed by the accused doctor who coaxed them with the entire procedure and asked them to avail loan from banks and deposit the amount into the gang's account. The amount would then be invested in other companies and stock markets. In return, the accused proposed to pay entire monthly instalments on the loan amount along with an additional monthly return of Rs 1 lakh to the doctors.
Taken over by the 'zero loss' scheme, few of the doctors reportedly availed loans of Rs 10 lakh and gave it to the medico, aiming to get a monthly return of Rs 1 lakh. In one such doctor's case, this loan amount went up to Rs 70 lakh
Initially some of the medical practitioners were reportedly gifted costly cars and cell-phones allegedly by the doctor and his partners. Lavish parties and conferences were conducted all via the state and doctors and private bank officials were invited as guests.
Also Read: Hyderabad Doctor cheated of Rs 1 crore, 24 year old arrested
In order to continue paying the monthly instalments, the accused went on adding more innocent doctors, however, the gang's scheme failed and the doctors realised that they have been taken for a Ponzi ride.
The 38 years old accused doctor and his main aide has been identified as Amit Sharma (42) and Neha Jain (23) and have now been arrested by the Rajasthan SOG, Besides, the role of senior officials of 11 private banks, who approved the loans, is under a scanner and is likely to be rounded up. The gang members, meanwhile, are absconding.
"There is a clear collusion between private bank officials and finance company bosses in granting loans. We have set up special teams to track down the accused," the official told TOI
"The doctor and his men ran into trouble as their investment scheme floundered. To compensate and to keep paying the monthly instalments, the accused added more unsuspecting doctors into the scam and kept rotating the money," an official probing the case told the daily.
4 comment(s) on Rs 100 Crore Ponzi Scheme: Doctor arrested for Duping 90 leading Doctors