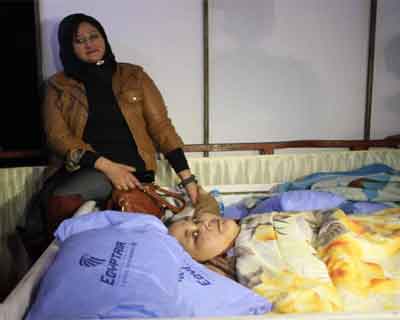 Mumbai: Saifee Hospital authorities have filed a police complaint against Egyptian national Shaimaa Selim for obstructing the medical treatment of her sister Eman Ahmed, who was admitted for weight loss, police said.
Eman weighed around 500 kg when she was brought to Saifee Hospital here in February.
A complaint has been filed at VP Road police station by the authorities of Saifee Hospital.
"Hospital authorities filed a written complaint with us against Shaimaa yesterday. She had tried to put water in Eman's mouth, despite being told that she must be fed by tube only," a police official said.
Nurses, who were on duty during the incident tried to stop her but, she allegedly pushed them, the official said.
After the incident, the doctors treating Eman filed a case against Shaimaa, he said.
"We have received a complaint from Saifee hospital. But, we have not registered any offence against her," Sanjay Kamble, senior police inspector of VP Road police station, said.
"Shaimaa had tried to put water in Eman's mouth. She is her sister and her act can not be termed as an offence," said another official.
Shaimaa and the Saifee hospital management have been locked in a bitter tussle after the former alleged that the doctors treating Eman have made "false claims" about her weight loss and "complete recovery" in a video released recently.
The hospital administration dismissed allegations made by Shaimaa, saying, she was criticising doctors because her family doesn't want to get Eman discharged and wanted to extend her stay at the hospital in south Mumbai.
Maharashtra Health Minister criticises Eman Ahmed's sister
Criticizing Eman Ahmed sister's behavior, the Maharashtra Health Minister Deepak Sawant said her allegations would harm the medical tourism sector in India. Eman, who was undergoing treatment for obesity at the privately-owned Saifee Hospital in Mumbai, is now going to be shifted to a hospital in the UAE.
Shaimaa had alleged in the last few days that her sister wasn't receiving proper treatment and doctors' claims about her weight loss were false. Speaking to reporters here, Sawant said that Shaimaa's allegations "would affect the medical tourism sector". "Eman has lost significant weight and it shows in various tests. Blaming the doctors irrespective of this is wrong," the minister said.
The Government of India had extended help to Eman and her sister for speedy processing of visa applications before their arrival here in February for treatment, and the state government too supported them, Sawant pointed out. He later visited the Saifee Hospital to meet Eman. "He was extremely happy with her progress and expressed his satisfaction about the care provided to Eman," the hospital said in a statement. According to the hospital, Eman, who weighed about 500 kg when she arrived here, now weighs 176 kg.
4 comment(s) on Saifee hospital files police complaint against World's Heaviest women's Sister