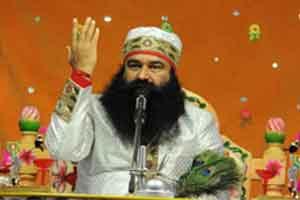 Burn patients and acid attack victims can now pin their hopes on a skin bank being set up in Sirsa, the first of its kind in North India. Saint Dr. Gurmeet Ram Rahim Singh Ji Insan will be using the earnings of 'MSG 2: The Messenger', produced by Hakikat Entertainment Pvt. Ltd., for the establishment of a state-of-the-art skin bank. Today, during a spiritual congregation held at Shah Satnam Ji Dham, Dera Sacha Sauda, he handed over the cheque of Rs. 40 Lakhs to the doctors.
"We are so happy to be a part of this humanitarian gesture by Saint Dr. Gurmeet Ram Rahim Singh Ji Insan. After transforming the lives of millions with inspirational messages in the entertainment format, Guruji is using his proceeds for helping acid attack and burns victims. Already the eye bank set up by him is among the largest in India and this will be a phenomenal contribution," said Ajay Dhamija, spokesman to Hakikat Entertainment Pvt. Ltd.
In the absence of a skin bank in North India, there is no cost effective and safe skin covering in burns patients that seriously delays healing. The skin bank will prove a boon for patients as there is no blood group match required and this skin bank will not only serve the cause for acid attack and burn patients but will also facilitate state-of-the-art treatments for skin diseases.
"It is notable that Saint Gurmeet Ram Rahim has donated the earnings of the previous movie too for research on Thalassemia and HIV patients," said Dr. Swapnil Garg, a leading plastic surgeon associated with the venture.
0 comment(s) on Sant Dr. Gurmeet Ram Rahim Donates 40 Lakhs for Skin Bank