................................ Advertisement ................................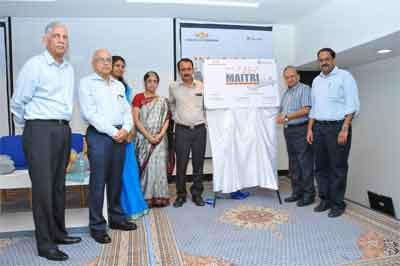 Bengaluru: Reiterating its commitment towards eye care, Microsoft has collaborated with Sankara Eye Hospital, Bengaluru to launch Maitri, a customized rehabilitation bus that visits remote villages in Karnataka to identify citizens suffering from vision problems and provide comprehensive rehabilitation services. With less than 30% of patients receiving rehabilitation services, Maitri was conceptualized to provide rehabilitation to visually impaired patients at their doorstep, helping them become independent and improve their quality of life. Microsoft has contributed funding to build and launch the bus under its commitment to corporate social responsibility and meeting the provisions of Schedule VII of the Companies 2013 Act.
In a pilot undertaken at Hoskote Village,the Maitri team screened over 130 citizens for vision issues in the past few months. More than 30 training for visually challenged individuals have been conducted in the Mobile Rehabilitation facility.The beneficiaries vary from young children to adults. So far,Maitri has concluded 32 visits across Hoskote and 54 patients having been taught skills ranging from the use of assistive devices, computer literacy,and even home skills like using a stove and functions in a kitchen.
Three-year-oldTanmay was brought to the Maitri bus by his parents as he had trouble paying attention to objects and was unable to recognize facial expressions.The specialists at Maitri diagnosed him with delayed visual maturation and he was advised and given visual simulation therapy. His parents were also counselled about the problem and its treatment. A month after the final visual prognosis and sessions of vision stimulation therapy, Tanmay can now recognize illuminated objects and has started observing facial expressions.The journey of rehabilitation and integration has begun for him.
Dr. Pushparaj, Joint Director, Department (Ophthalmology), Department of Health & Family Welfare, Government of Karnataka said, "It is a matter of pride that the first mobile vision rehabilitation bus in the country Maitri, has been made possible by Microsoft's CSR grant to Sankara Eye Hospital, Bengaluru. This initiative will significantly benefit the people of Karnataka. We look forward to partnering with Sankara Eye Hospital in this wonderful initiative with other departments, to ensure that the facilities are utilized to the maximum. We hope this will inspire more corporates to collaborate with healthcare institutions for a healthier India."
Speaking during the launch of the service, ChitraSood, Director, Business Management and Strategy, Microsoft India (R&D) Pvt. Ltd said, "Giving is something that's central to our culture at Microsoft. Our CSR activities aim to empower people and help them realize their potential. In our view,eye health and vision rehabilitation are one of the means to ensure that people can pursue their dreams. Maitri mobile vision rehabilitation bus is a big step in ensuring that healthcare reaches the doorstep of anyone in need."
................................ Advertisement ................................
Speaking during the launch Dr. R.V. Ramani, Founder & Managing Trustee, Sankara Eye Foundation said, "Our vision rehabilitation team has helped thousands over the years at Bengaluru. Distance has been a barrier for the blind or visually impaired to access our rehabilitation clinic from other parts of the state. We are now taking this very service with no compromise on the quality of infrastructure or personnel to their doorstep. Collaboration is important for us to help integrate the blind. Maitri is a model of how a caring corporate, a dedicated organization, and the government can work together to help over 500 visually impaired individuals from rural communities gain independence annually."
Studied at Indraprastha College for Women (Delhi University), completed in year 2014. Currently working with Medical Dialogues, a online Medical news paper dedicated for healthcare Professionals.
................................ Advertisement ................................
0 comment(s) on Sankara Eye Hospital, Microsoft to launch Maitri rehabilitation program for Karnataka Villages