Sardar Rajas Medical College students denied entry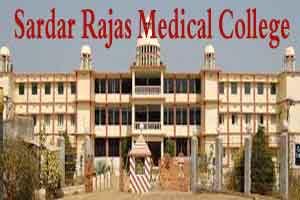 The students of Sardar Rajas Medical College were seeking entry into the Veer Surendra Sai Institute of Medical Sciences and Research (VIMSAR) to submit their allotment letters. But they were in for a rude shock after the students of VIMSAR blocked the entrance gate to deny them permission.
In a high stage drama by the VIMSAR students they locked the main gate of the institute and denied any access to the administration of the institute.
This is not the first time the VIMSAR students have protested the decision by the Orrisa High Court. They has earlier staged a dharna on their college campus, and then also locked the main gate.
However, after the recent direction by the Orrisa High court to complete the Rajas students' relocation process by December 22, the agitation was withdrew by the students.
As reported by
Express
, VIMSAR students' union president Jayshankar Mishra said any move to accommodate MBBS students of SRMC would be detrimental to students of both VIMSAR and SRMC. Explaining that VIMSAR has dearth of both teaching staff and infrastructure, including classrooms, laboratory, medical equipment and hostels, he said the increase in the number of students will mount pressure on the available resources and ultimately the students will suffer.
As reported by
Telegraph
, Binod Barik, a student of the institute, said: "We have moved the Supreme Court over the issue. The hearing will take place on January 5. We will continue our agitation till the hearing takes place."
A third-year Rajas student, Senoja Sahu, said: "We have been asked to report to the institute authorities regarding relocation between December 24 and 30. All the 54 Rajas students, who have been allotted seats in the institute in Burla, today came to submit their allotment letters to the authorities. However, the institute students had locked the main gate."
"We do not know what to do now. We have already lost seven months. Our careers are at stake now. We hope that they (the Sai students) will understand our problem," she said.
In all, 12 second-year and 42 third-year students from Rajas came to the institute to submit their letters. Ramesh Chandra Samantray, who is officiating as the Sai principal, said: "The students are opposing the accommodation of Rajas students here. They locked the main gate today. The agitation hindered official work. We will discuss the matter with them. We are hopeful that a solution will emerge."
The parents of Rajas students called on district collector Balwant Singh and apprised him of the deadlock. Singh said he would discuss the matter with the agitating students on Monday.