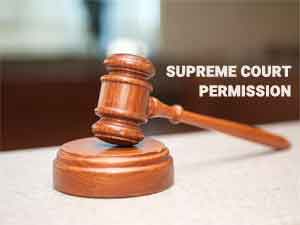 New Delhi:  The Supreme Court allowed a 13-year-old rape survivor to terminate her 32-week-old pregnancy after taking note of the medical report and the "trauma of sexual abuse" suffered by her.
A bench headed by Chief Justice Dipak Misra directed that the medical procedure should be conducted on the girl at the earliest, preferably on September 8, after it took note of the report of the apex court-appointed medical board comprising doctors of J J Hospital, Mumbai.
The victim, a Mumbai resident and VIIth standard student, had to knock the doors of the apex court as the law prohibits abortion of a foetus after 20 weeks of pregnancy.
The bench also took note of the risk factors and asked the hospital to do the needful and admit the girl a day prior to conducting the procedure for aborting the foetus.
"Considering the age of the petitioner (girl), the trauma she suffered because of sexual abuse and the agony which she has undergone… we think is appropriate that the termination of pregnancy can be allowed," the bench, also comprising Justices Amitava Roy and A M Khanwilkar, said.
Section 3(2)(b) of the Medical Termination of Pregnancy (MTP) Act prohibits abortion of a foetus after 20 weeks of pregnancy.
It was a race against time for the victim whose pregnancy was at an advanced stage.
The apex court ordered setting up the medical board on August 28 to examine her after two days. However, her examination could not take place on August 31 as massive rains lashed Mumbai. It was finally conducted on September one.
Later, the concerned bench did not assemble on the dates fixed leading the matter to be heard by the bench headed by the CJI, which took note of the medical report and the circumstances and ordered termination of the pregnancy.
During the hearing, Solicitor General Ranjit Kumar, appearing for the Centre, referred to the medical report and submitted that the court was to take an appropriate decision.
He, however, referred to an earlier order of the apex court in a similar plea filed by a minor rape survivor, hailing from Chandigarh, and said that the permission was denied in that case keeping in view the medical report.
The minor girl's mother, through advocate Sneha Mukharjee, had moved the apex court seeking its permission to terminate the pregnancy of her daughter.
The top court had on July 28 rejected on medical grounds a petition filed by another 10-year-old rape victim seeking its nod to terminate her 32-week-old pregnancy.
The court's order had come after taking note of a medical report that abortion would neither be good for the girl, nor for the foetus. The minor girl had recently delivered a child in Chandigarh.
1 comment(s) on SC allows 13 yr old rape survivor to abort her pregnancy