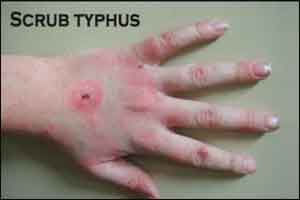 Shimla: A 45-year-old woman died of Scrub Typhus at the Indira Gandhi Medical College and Hospital here, taking this year toll to 14, an official said.
Purni Devi from Rampur in Shimla district was admitted to IGMC on September 14. She died during treatment for Scrub Typhus, Senior Medical Superintendent Dr Romesh said.
The number of death at the IGMC has risen to 13 while one patient died at the Tanda Medical College in Kangra district, he said.
"So far, 300 patients admitted to IGMC have tested positive of Scrub Typhus that spreads from an insect found in grass during and after the monsoon," the official said.
The state health department has distributed pamphlets and posters to raise awareness on the disease and asked people to seek timely treatment.
Medical Dialogues team had earlier reported a detailed guideline about Scrub Typhus, the disease is commonest occurring rickettsial infection in India, in which patient experiences similar symptoms of that of Chikungunya, but unlike chikungunya where treatment includes no antibiotics, this can be treated using antibiotics to kill bacteria.
Read also: Scrub Typhus Alert: 33 cases reported in capital, check out the guidelines to treat
0 comment(s) on Scrub Typhus deaths, toll mounts to 14