Second Biannual National Deworming Day to tackle worm infections in children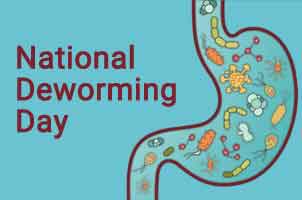 Bangalore: In order to combat the public health threat of intestinal worm infections in children aged 1-19, the Government of India will observe the second biannual National Deworming Day on 10 August 2017. A mop-up day will be held on 17 August to deworm any child who could not be dewormed on National Deworming Day.
Launched in 2015, the annual round of National Deworming Day is observed nationally on 10 February, with a mop-up day on 15 February.  Since 2016, the biannual round in Augustis being observed by select states based on their intestinal worm prevalence data.
India has the highest burden of intestinal worm infections in the world, with the World Health Organization estimating in 2014 that over 22 crore Indian children aged 1-14 years are at risk. Worm infections can act as a deterrent to children's growth and development, and can adversely impact performance in preschool and school, and livelihood potential later in life. Deworming with the safe and beneficial Albendazole 400 mg tablet is an effective solution to controlling intestinal worm infections.
Schools and preschools (anganwadis) are ideal platforms for such a program, reaching children in their natural environment in a coordinated, cost-effective, and systematic way. The program is observed in all government and government-aided schools, and as of February 2016 private schools are also part of National Deworming Day. Children who are out of school, live in hard-to-reach areas, and are from vulnerable populations are mobilized by ASHAs to be dewormed at anganwadis on National Deworming Day.
Deworming may have very few side effects in some children.Those with high worm infections might experience nausea, mild abdominal pain, vomiting, diarrhoea, and fatigue. In line with the guidance from the Ministry of Health and Family Welfare and World Health Organization, comprehensive adverse event protocols have been put in place.In addition to deworming, maintaining healthy and hygienic practices will help children and communities remain safe from intestinal worm infections.
The Ministry of Health and Family Welfare envisions an open-defecation-free India, which could potentially reduce the overall worm burden in a community. The efforts of Swach Bharat Abhiyan will further facilitate the progress and benefits of the National Deworming Day.
National Deworming Day is conducted with technical assistance from the World Health Organization, National Centre for Disease Control, and Evidence Action.