Separated twins improving, may return to Odisha in March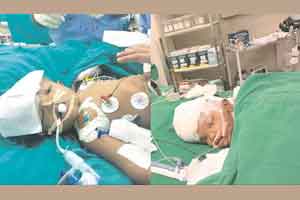 Bhubaneswar: The Odisha government said Jaga and Kalia -- the conjoined twins who were separated after surgery last year -- are likely to be discharged next month from AIIMS, New Delhi.
Health and Family Welfare Minister Pratap Jena said the twins will return to Odisha and the state government is making preparations for their treatment in the state.
"The separated twins are likely to be discharged from the All India Institute of Medical Sciences (AIIMS), New Delhi in the second week of March as their condition has improved," he told reporters here.
Last year, the Odisha government had sanctioned Rs one crore from the Chief Ministers Relief Fund (CMRF) for the twins' treatment.
"As overstay in a hospital may cause infection, we are considering to shift Jaga and Kalia to Bhubaneswar from New Delhi," Jena added.
He said a five-member doctors team from Odisha will soon visit the AIIMS to review the health condition of Jaga and Kalia. Later, a decision will be taken on shifting of the twins to Odisha, the minister said.
The minister said Jaga has recovered fast compared to his separated brother Kalia.
The 31-month-old kids have been kept under constant supervision at the AIIMS since they were admitted there in July last year.
The twins, hailing from Milipada village in Kandhamal district, were separated in the heads in two phases.
The final head separation needed a 22-hour surgery by a team of doctors at the AIIMS on October 25 and 26 last year.