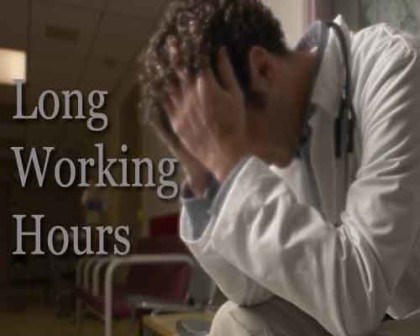 "We usually work for 30 hours straight. There is practically no off unless we take leave, which is very difficult to get."– KGMU RDA General Secretary Dr Neeraj Mishra
Lucknow: King George's Medical University (KGMU) has been surrounded with controversy starting with the news of a resident doctor's suicide attempt recently. Blaming the huge workload, stress as well as the shortage of staff, the Resident Doctor's Association (RDA) have now demanded the Vice-Chancellor to fix a maximum of 48 hours of work per week for every resident doctor and also grant them a weekly off.
A few days ago, one Junior Resident (JR)-I in orthopaedic department, Vivek Kumar, was found with his wrist slit in his Buddha Hostel room. In his suicide letter, he had blamed his attempt on mental illness. He was being treated for depression at KGMU's psychiatry department.
The incident brought into focus the working atmosphere at the prestigious KGMU, with the Resident Doctors Association blaming the hostile work environment as well as the pressure on junior doctors. The RDA also wrote to the Vice- Chancellor pointing out to the condition of all resident doctors working continuously at the hospital for long massively stretched hours
"Today it was Vivek, tomorrow it could be any of us, as we are all working for long hours under immense stress," RDA General Secretary Dr Neeraj Mishra told TOI
"We usually work for 30 hours straight. There is practically no off unless we take leave, which is very difficult to get. This is when the abnormal amount of work pressure, harassment and exploitation make someone take a drastic step. The irrational working environment, deficiencies in system and shortage of staff should be met immediately. This will help in creating a healthy environment for all," he added
Pointing out to the directions of the Supreme Court as well as the conditions of the  central government's residency scheme, the doctors have demanded that KGMU implements the same. In particular, the Central Residency Scheme Clearly states
"Continuous active duty for resident doctors will not normally exceed 12 hours per day. Subject to exigencies of work the resident doctors will be allowed one weekly holiday by rotation. The resident doctors will also require to be on call duty not exceeding 12 hours at a time. The junior Residents should ordinarily work for 48 hours per week and not more than 12 hours at a stretch subject to the condition that the working hours will be flexible as may be decided by the Medical Superintendents concerned keeping in view the workload and availability of doctors for clinical work."
Read Also : 5 Points about Central Residency Scheme all Doctors Should know
The RDA has demanded one stretch of duty to be limited to eight hours and in an emergency situation, to 12 hours.On the issue of duty hours, the RDA asked the VC to give a full day off on the next day if a resident does night duty.
Concerning the exploitation, RDA mentioned that if during work, if a senior tortures or physically or verbally abuse a junior; it should be considered ragging. Moreover, it should be considered as a case of mental harassment of a resident. It should be dealt with in the strictest manner, the letter to the VC added, reports TOI.
12 comment(s) on Stress at KGMU: Doctors demand FIXED Duties, 48 working hours per week, Weekly OFF