SGPGIMS releases 43 vacancies for Assistant Professor, Associate Professor, Additional Professor, Professor on Contractual Basis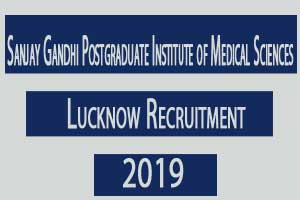 New Delhi: The Sanjay Gandhi Postgraduate Institute of Medical Sciences, Lucknow invites applications on prescribed form from Indian citizens for the positions of Professors, Additional Professors, Associate Professors and Assistant Professors in its various clinical departments
Start date of online payment of fees to start the application process           21 Dec 2018, 10:00 hrs IST
Last date for online payment offees to start the application process            11 Jan 2019, 17:00 hrs IST
Lastdate forfilling and submitting online application process                        14 Jan 2019, 17:00 hrs IST
Last date for receipt of hard copy of application                                                   22 Jan 2019, 17:00 hrs IST
Web link to see advertisement and fill application online: www.sgpgi.ac.in /
The vacancies are in the Department of Gastroenterology, Medical Oncology, Biostatistics & Health Informatics, Hospital Administration, Hematology(Clinical/BMT), Emergency Medicine, Radiodiagnosis, Hospital Administration, Hematology(Clinical/BMT), Hematology(Lab), Emergency Medicine, Surgical Gastroenterology, Radiodiagnosis, Plastic Surgery & Burns, Pediatric Surgical Superspecialities, Pediatric Gastroenterology, Neurosurgery, Neurology, Medical Oncology, Hospital Administration, Hematology(Clinical/BMT), Gastroenterology, Endocrine Surgery, Endocrinology, Emergency Medicine, Critical Care Medicine, Clinical Immunology, Cardiovascular And Thoracic Surgery, Cardiology, Biostatistics & Health Informatics
For more details about Assistant Professor, Associate Professor, Additional Professor, Professor Recruitment click on the given link:
http://medicaljob.in/jobs.php?post_type=&job_tags=sgpgims-uttarpradesh-jan2019&location=&job_sector=all
The post of Professor, Pediatric Gastroenterology will be vacated on 28.02.2019 after superannuation of the incumbent and will be available for joining on or after 01.03.2019 only.
Essential Qualifications & Experience:
1. Amedical qualification included in the first or second schedule or part |! of the third schedule of the Indian Medical Council Act, 1956. Persons possessing qualifications included in part II of the third schedule of this Act shall also fulfill the conditions specified in sub-section (3) of the section 13 of the said Act.
2. A postgraduate qualification recognized by the Medical Council of India (MCI) or equivalent thereto (i.e. if a person with postgraduate medical qualifications awarded in the United States of America, United Kingdom, Canada, Australia or New Zealand desires to take up a teaching appointment, his/her qualification can be considered as equivalent to MD/MS/DM/MCh as the case may be, for the post of Assistant Professor in respective departments. Diplomate National Board (DNB) shall be treated as equivalent to MD/MS DM/MCh qualifications of the respective broad / super-specialties.
Age Limit for appointment as Senior Residents

:-
 As per under Govt. rules.
PAY SCALE

:
 As per under Govt. rules.
For more details click on the original website given below.