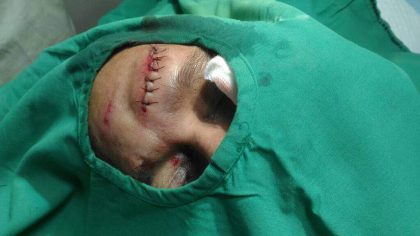 Kolkata: In an unfortunate and a highly condemnable incident, a senior medical practitioner became of victim to a violent mob attack  after the death of a patient in Kankugrachhi nursing home. Injured heavily after the attack, the doctor was admitted in critical state to the ICU of Apollo Gleneagles Hospital, with severe head injuries.
The doctor, Dr JP Aggarwal, the president of IMA North West branch in the city, who was brutally attacked by the relatives, was actually the family physician of the 45 year old patient who died at Kankugrachhi nursing home yesterday.  The patient who had a history of uncontrolled diabetes, was admitted on Tuesday to the said hospital with multiple problems like pneumonia, high blood pressure and chest congestion and pain. His condition became serious and he was shifted to the ICU, where he died around 2am
"Learning of Jaiswal's death, Agarwal rushed to the nursing home. He stayed put till morning to explain the death to the family," said P K Jalan, the manager of the nursing home told TOI.
In the morning, a mob or relatives gathered outside the hospital and started throwing stones at the glass chamber of the doctor. He was grievously injured after one of the stones hit his forehead. With profuse bleeding, the doctor was somehow shifted outside the hospital and rushed to Apollo Gleneagles.
Speaking to TOI and refuting allegations of being involved in the attack, one of the patient's family members said: "The doctor has been a family physician to us for the past 30 years and we hold him in high regard. In no way would we assault him. It was the work of some outsiders." However, the daily adds that four of the patient's relatives were arrested after the incident.
Calling it a slap of the medical profession, the medical practitioners were seen protesting the incident, condemning the growing violence against doctors.
"Dr Agarwal prefers to keep a low profile and is respected both in the medical fraternity and among his patients.The incident has left us in shock," a doctor said
2 comment(s) on Shameful: Murderous Attack on Senior Doctor in Kolkata