Sharad Yadav admitted to AIIMS post complaints of chest pain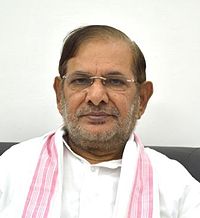 Sharad Yadav now undergoing treatment for lung infection

The JD(U) minister, Sharad Yadav, is being treated in All India Institute of Medical Sciences (AIIMS) in New Delhi for the past 15 days. He was received at the hospital in a state of a nagging chest pain and other complications, which had initially affected his (Sharad Yadav's) health.

The minister is currently undergoing a treatment for lung infection, and is stated to be out of danger now. He might be discharged soon, as per a recent press statement.

As per the details shared by PTI,

He was admitted to AIIMS on June 22 after he complained of chest pain and other complications.

Though it is around a fortnight since he has been admitted to the hospital, sources close to him said he is now out of danger and is likely to be discharged soon.

"Sharad ji has recovered and is recuperating fast," they said.