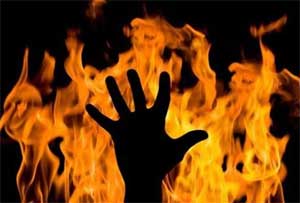 Chennai: The owner of a private diagnostic centre named Sri Balaji Diagnostics in Madipakkam has been accused of setting a 34-year woman employee on fire. The woman is suffering from serious burn injuries and is undergoing for treatment at the Kilpauk Medical College Hospital (KMCH).
As per a recent report in Deccan Chronicle, the employer allegedly threw lab spirit on her and then set her on fire. While the actual reason behind the incident is not clear, the preliminary investigations reveal that the professional differences between the two may have led to this shocking incident.
The incident took place on Sunday Night around 9 pm when the lab assistant had rushed out of the lab screamingly. The local public put off the fire and took her immediately to the nearest hospital from where she was shifted to the  Kilpauk Medical College Hospital (KMCH).
While interrogating with the lab owner Raja, a resident of Anna Nagar, he told the Police that they entered into an argument over the laziness in work from her side. The woman had allegedly hurled verbal abuses at him which enraged Raja. He further alleged that woman set herself on fire and threatened him with consequences Police informed Deccan Chronicle
On the other hand, Yamuna's family alleged that Raja offered her a job at his lab and in exchange of that he promised her 3 times more salary in comparison what she was earning but he paid her less money. Yamuna was upset with his fraud and wanted to leave the job.
Madipakkam Police have registered a case against Raja. He was produced before a magistrate in Tambaram and was remanded to judicial custody. The woman had suffered 46 percent burn injuries and is undergoing treatment.
The employer Raja is also admitted to the hospital as he too suffered burn injuries on his hands, reports Deccan Chronicle 
0 comment(s) on Shocking: Diagnostic Centre owner arrested for allegedly setting lab assistant on fire