Shocking: Doctor on leave, ward boy working as doctor and pharmacist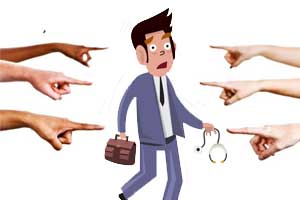 Barabanki: A ward boy can be a doctor and a pharmacist as well...!!!!
In a District Hospital of Uttar Pradesh's Barabanki, a ward boy is solely running the hospital as the appointed doctor allegedly visits the hospital once in 10-15 days. The local public of the Barabanki alleged that the ward boy not only looking patients and running the hospital, the one is also performing the role of the pharmacist.
The hospital in the very bad condition. The basic amenities like fans, lights, etc.
The hospital was built during the previous government's tenure to provide free healthcare to the villagers living nearby, the locals now are wary of even visiting the hospital.
When the media person contacted the three patients who were admitted there, they informed News18, "We have never seen the doctor here. People claim she visits once in a fortnight. The pharmacist is also mostly absent. The ward boy runs this place,"
Allegations True or False????
When asked about the allegations, Srivastava termed the allegations as untrue and said, "I do not hand out medicines to anyone. The doctor is on leave as someone has passed away in her family. My job is to provide first-aid."
Meanwhile speaking on the issue of such negligence by the medical professionals, Barabanki's Chief Medical Officer (CMO), Dr Ramesh Chandra said, "I have come to about this issue now. If found to be true, action will be taken against the doctor and pharmacist. Right now, Dr Asma Bano is posted at the PHC. Such negligence will not be tolerated at any cost. I am ordering an inquiry into the matter and whosoever is found guilty will face action."