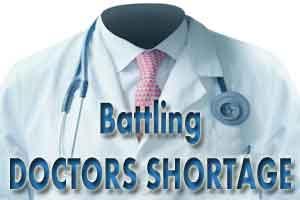 Bhubaneshwar: Vacancies of Doctors and specialists at Primary Healthcare centres(PHCs) and Community Healthcare Centres(CHCs) in rural Odisha seemed to have reached its peak in 2016. This resulted in the doctor patient ratio in rural areas also rising to a phenomenal 1: 13,154 against the state average  of 1:2,323. Meanwhile, the national average standing at 1: 1668.
The figure differences in the doctor : population ratios between the rural and urban is an indication to the high density of doctors in the urban areas, which includes doctors in private hospitals and clinics.
The State Medical Council statistics reveal that Odisha has 19,000 registered practitioners. However, doctors in the government run health centres including medical college hospital stand at a minimal figure of 3,500.
The Odisha state however does not suffer from a paucity of doctors  as the number of doctors produced by medical colleges along with the sustained strength of working doctors, excluding the retired lot comes to a conservative figure of 8,500. However, those employed by state run facilities number below 4000, which is indeed a challenge  for the government.
The World Health Organization (WHO) norm  calls for one doctor to attend to a population of 3,500. According to this barometer Odisha falls back and records a 65% to 85% shortfall of doctors in all its 30 districts. 9,200 doctors are required in the state run health centres as against the current available strength of a little above 2, 000 in rural areas.
It is clear that the perks offered to doctors by the government for serving in rural areas did not have the magical effect. Apparently 49 doctors deserted the PHCs last year resulting in  allopathic doctors' vacancy at the PHCs rising to a 353 in number.
Specialist vacancies had fallen in 2013, however they still stand a low at 554 in 2016, with an up from 552 in 2015, reveals the State Health Directorate data.
The data also reveal the Government's recent claim of increasing doctors at the CHCs by showing recruitment of more general duty medical officers than specialists at the CHCs because against the sanctioned strength of 422 general medical officers, the CHCs have over 270 more such officers.
7 comment(s) on Shocking: Only 1 doctor for 13,154 patients in rural Odisha