Shocking: UP Surgeon arrested for killing his ex wife in Nepal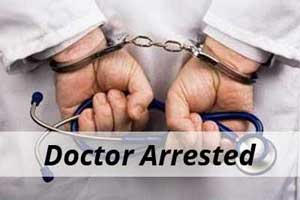 Gorakhpur: A renowned surgeon has been arrested for allegedly killing his first wife by pushing her off the cliff. He is alleged to have kept her social media active to fake her alive.
The case concerns a Dr Dharmendra Pratap Singh who runs a nursing home in Gorakhpur. He along with his other two accomplices hatched a plot to kill Rakhi Srivastava during her visit to Pokhra in Nepal.
According to media reports, Rakhi went to Nepal with her second husband Manish on June 1. Manish returned but she stayed back.
Read Also: Husband charged with Indian-origin pharmacists murder in UK
The special task force (STF), IG Amitabh Yash told  
TOI
 "Rakhi was missing from Gorakhpur and her brother Amar Prakash Srivastav had lodged missing/kidnapping report with Shahpur police on June 24, 2018, under section 366, 506 of IPC against Manish, a resident of Gaya in Bihar".
Since, Dr Singh was her ex-husband, he was also under scanner. The case turned upside down when STF team visited Pokhra and went through the call details, which revealed that Dr Singh was also in Nepal at the same time. Her phone was active between June 1 and 4. The last location of Rakhi was traced in Gowahati on October 4. Rakhi's family believed that she was staying in Gowahati.
When the team visited the team the Pokhra and, the local police informed that a dead body had been recovered in the first week of June which was later identified was of Rakhi.
"This made Dr Singh a prime suspect. After sustained interrogation, he confessed to have killed Rakhi as she was blackmailing him to get money and property," IG Yash informed TOI.
IG further informed that the doctor had planned to kill her several times before but this time it was successfully executed with the help of his accomplices.
"They took her out, offered her a sedative-laced drink and pushed her off a cliff in Pokhra itself," IG added.
"However, even after killing Rakhi, they kept updating her social media account through her mobile phone," he added.
"After the arrest of the three, we have recovered a Scorpio (UP-53CN 2843), voter ID card of Rakhi, Nepali mobile recharge card, two PAN cards, an ATM card and four mobile phones from their possession," the IG said.