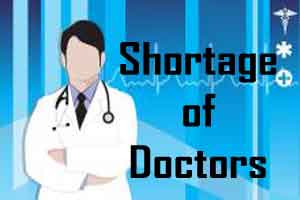 New Delhi: Suffering from an acute shortage of medical practitioners in the government hospitals of the capital, the Delhi Government is now looking to the help of retired medical practitioners to fill their vacancies.
A notice to this effect was taken out by the Health and family welfare department, permitting the competent authorities to now hire retired government services to fill up their vacant sanctioned posts. Medical Superintendents have been directed to carry out the recruitment at their own level
Moreover, through a recent notice the department noted that not much progress has been made on this front, further observing that  many hospitals heads are finding it difficult to initiate the recruitment exercise.
The Department announced that to this effect, it will publish a joint advertisement in national dailies, inviting applications from retired government servants, and directing that details of hospital wise vacancies are to be published on the departmental website.
For carrying out the recruitment exercise in a cohesive manner, the notice laid down the following metholodolgy
1. All Medical Superintendants are advised to see the website of the Department to check out the correctness of the number vacancies of different posts pertaining to their hospital, and to communicate any corrections, to the Dy Secretary (FIR- Paramedical). This may be done by telephone/e-mail/SMS or in any other manner, to be followed up by a written communication to the Dy. Secretary,
2. They are also directed to designate a nodal officer in the hospital, for receiving the applications in hard copy from retired government servants, against the posts of medical/Paramedical/nursing and other staff including administrative staff, and to have them tabulated postwise, on a daily basis as they are received. MSs shall personally go through the applications at the end of the day so that they have an idea about the posts that can be got filled up, and to ensure the daily tabulation.
3. As applications are received, MSs shall organise screening of the applications so that the position in respect of eligible candidates is clear at the earliest.
4. Applications would be received upto the close of office hours, on the 7th day from the date of publication of advertisement in this regard.
5. By 12:00 noon of the next working day, the tabulated statement of selected/to be selected candidates shall be mailed to the Dy Secy. (HR-Paramedical), to enable the department to obtain the necessary financial and other sanctions for the engagement.
6. Thereafter, the applications may continue to be received in soft copy , at the official e-mail of the Medical Superintendent, and must be forwarded as a bunch to the office of the Spl. Secretary (HR), Department of Health & Family Welfare, on the afternoon of every Friday, upto the 5th of January, 2018.
6 comment(s) on Shortage of Doctors: Delhi Govt to now hire retired doctors for vacant posts