Shortage of doctors hits health services in Odisha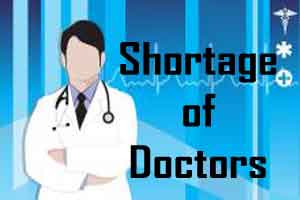 BERHAMPUR: A large number of vacant posts of doctors at health centers has impacted medical services in Odisha's Ganjam district, officials said.
While the sanctioned strength of doctors in the district is 399, at least 275 of the posts are lying vacant, official sources said.
"We have apprised the state government about the shortage of doctors," said Chief District Medical Officer (CDMO), Saroj Kumar Mishra.
Forty doctors have recently been engaged on contractual basis in the district, the sources said.
The district has 580 different health centres, including 460 sub-centres, 89 single-doctor public health centres (PHCs) and new PHCs, 30 community health centres (CHCs) and a district headquarter hospital here.
According to government norms, at least 6 doctors, including 4 specialists, should be posted in each CHC.
"I took up the issue with the health minister and the government will appoint some specialists in the major hospitals of the district soon," said BJD MLA (Berhampur) and Chairman of the District Planning Board, R C Chyaupattnaik.
While several hospitals, including the ones at Digapahandi, Patrapur and Kodala are running with single doctors, 34 new PHCs are functioning without any doctor. The CHC at Balisira is functioning with a contractual doctor, the sources said.
"The issue of large-scale vacancies of doctors in the district has been discussed at several forums, including the zilla parishad meeting, but the problem persists," said zilla parishad member (Congress) Brundaban Khatei.
While the government had appointed 22 MBBS doctors in August in the district, only four of them have joined so far, the sources said.
The health sector in Ganjam is totally neglected and the government must take immediate steps to improve the situation, BJP state secretary Bibhuti Jena said.