Shri JP Nadda inaugurates two-day risk communication workshop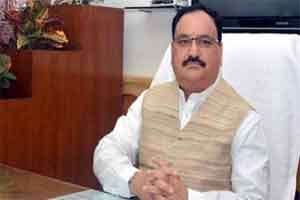 Urges public health functionaries for simple and effective communication
New Delhi
: J P Nadda, Union Minister of Health and Family Welfare inaugurated a two-day workshop on 'Risk Communication during Public Health Emergencies' at Shimla. During his inaugural address, Shri Nadda urged the public health functionaries for keeping their communication simple and effective during the delivery of healthcare services. Shri Vipin Parmar, Health Minister, Himachal Pradesh, Shri Vineet Chawdhary, Chief Secretary, Himachal Pradesh, Dr. Promila Gupta, DGHS, Dr. Pauline Harvey, Team Lead-NPSP, WHO Country Office and Shri Prabodh Saxena, Principle Secretary (Health), Himachal Pradesh were also present at the inaugural function.
Addressing the participants, Shri Nadda said that prevention and control of disease outbreaks or spread of Public Health Emergency of International Concern (PHEIC) in the country need multi-sector approach. "It encompasses inter-sectoral cooperation and co-ordination between various ministries. He added that during public health threats mis-communication or mis-interpretation of public messages can have significant negative impact on preventive and control strategies. "It is important to identify and quantify the risk, possible channels spread, Standard Operating Procedures (SOPs) for prevention, control and treatment," the Health Minister said.
Laying stress on preparedness, Shri Nadda said that many diseases have the risk of spreading from one state to another.  "Health Ministry has been regularly interacting with the States for monitoring and reviewing their preparedness to manage vector borne diseases in the country in terms of availability of diagnostic kits, drugs, testing labs, manpower funds and awareness activities," Shri Nadda added.
Shri Nadda assured the participants for implementing the protocols and SOPs emerging from the workshop and also unveiled a 'Communicable Disease Alert on Scrub Typhus" and a draft of strategic guidance on "Risk Communication during Public Health Emergencies".
.Shri Vipin Parmar, Health Minister, Himachal Pradesh described the workshop as an important effort and said that the findings from the workshop will prove to be beneficial for not only the State but for the entire country. He further expressed his commitment towards strengthening health services in the State.
More than 100 people from various government department participated in the two-day capacity building workshop which was jointly organized by National Centre for Disease Control (NCDC), Delhi and World Health Organization. The main objectives were to enhance the capacity of key International Health Regulation (2005) and emergency stakeholders in responding effectively to urgent communication during acute public health events through an application of evidence-based principles in the country, to draw attention to the systemic capacities and planning needs to enable effective risk communication during emergencies, using an all-hazards approach and to share experiences of risk communication during recent public health events.