Smart phone helps woman delivers baby after 7 years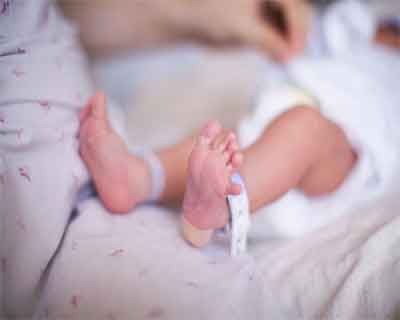 New Delhi: Sir  Ganga Ram Hospital is a  tertiary care hospital in New Delhi which because of its long standing reputation  gets many patients coming from outside Delhi. Many of these patients who come from far flung areas are suffering from problems which can be either be  tackled locally or even if they come to Delhi , they have to spend a  lot of money on stay, food and other overheads till the disease is diagnosed.
According to Dr D.S Rana , Chairman (Board of Management ), Sir Ganga Ram Hospital , "At any point of time our hospital has  about 25-30 percent of out station patients who visit our hospital for specialized treatment. The hospital is always  over booked and inspite of our best of efforts many patients can not be accommodated due to lack of beds ."
According to Dr Sudhir Kalhan, Advisor, Doctor's Forum and Co-Chairperson, Department of Minimal Invasive Surgery, Sir Ganga Ram Hospital, " We the consultants felt that many of our  out station patients cannot only be diagnosed at the local level but can also be treated if given expert  advise through a smart phone application . This led us to approach a technology partner , who helped us develop a smart phone application which is specifically beneficial to our out station patients . More than 5000 patients have benefitted from this application in last 3 months. Many more are being added every day . It is a free down load application available both on Android and IOS , by the name of "My Follow up".
With this App , the travails of seeking an appointment with a hotshot super specialist physician or surgeon in a large, multi-specialty tertiary care hospital are over.  Everything about the hospital experience is intimidating and energy sapping: making the trip on a working day (during peak work hours), finding parking, the process of registration, the interminable queues and waiting intervals, the general bluster of busy out-patient departments. It's particularly distressing for patients making the trip from other cities. To do all of this for trivial matters and follow up visits (just to show reports or for making seemingly banal inquiries) is especially painful. Imagine if there was a smartphone app that could connect you directly to your doctor, imagine if follow up visits with your specialist were a multi-media experience that you could partake from the comfort of your home / office.
My follow up IS up and running and immensely popular with the patients of Sir Ganga Ram hospital. It's downloadable free of cost, and available both on Android and IOS. The Application allows patients to share their reports, pictures, previous prescriptions and seek detailed telephonic consultations. The physicians can restrict these telephonic consultations to a time slot of their choosing and because it is an IVR call, the physician's personal numbers aren't really required to be in circulation. At the end of the telephonic interaction, the physician generates an electronic prescription that is instantly conveyed to the patient on the app.
And one doesn't have to search hard to find an example of the power and efficacy of such an application.
 A young woman from Kashmir who was unable to conceive for last 7 years , approached Dr Abha Majumdar , Director ,Centre of  IVF & Human Reproduction , SGRH, through My Followup App for  treatment for infertility as she could not  make the trip to Delhi ever so often. Treatment for infertility, notably, requires frequent follow up visits for ovarian follicular scans and review of these scans for treatment interventions. This particular patient was suffering from a condition called Polycystic Ovarian Syndrome that required gonadotrophin injections that were to be given with concurrent follicular monitoring. The app provided the perfect platform for the sharing these images and the tweaking of medical interventions to get the desired results. The happy denouement to this story is that this patient got pregnant within days of starting treatment, entirely as a consequence of treatment advised on My Follow Up application, without having to make a subsequent trips to Delhi. This after seven years of infertility and prolonged and unfruitful treatment in J&K.
Virtual Medicine is getting closer.  My Follow Up application has come as a boon to patients who need regular medical follow ups and have long distances to cover before getting the desired medical advise.  It is also a great way of connecting the Super specialist Doctors of the metro cities to remote locations all over India in line with the vision of PM Narendra Modi of a Digital India.