Smile Train Honoured With Three Awards at the World CSR Congress 2017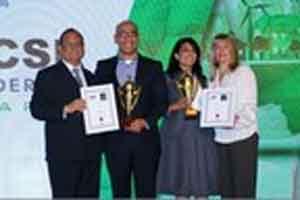 Mumbai : Smile Train, the world's largest cleft charity, won three awards at the World CSR Congress held on February 17th and 18th in Mumbai. Smile Train won the Global NGO Excellence Awards in the Health category and that of the Best Healthcare NGO of the Year. Smile Train's India programme, which is the country's largest in cleft care, also won the ABP News CSR Leadership Award in the Concern for Health category during the two-day Congress.
Speaking at the event, Mohamed Fakhreldin, Smile Train's Chief Programs Officer said, "Receiving these awards is not only a moment of great pride for Smile Train, but also a motivation to continue healing the cleft and bringing smiles to millions of faces. Awards like these give a boost to the entire healthcare sector by building faith in corporates to support such initiatives and organizations, which aim at enhancing healthcare, especially in the developing world."
In India, over 35,000 children are born with clefts lip and/or palates every year, and there is a backlog of over 10 lakh cases with untreated clefts. Children born with clefts have difficulty eating, breathing and speaking. Untreated, they live a life of isolation. A majority of these children never go to school and seldom find jobs. A cleft surgery that can take as little as 45 minutes can change that by giving the child an opportunity to go to school and grow up to be a contributing member of society.
Expressing her gratitude, Mamta Carroll, Smile Train's Vice President and Regional Director, South Asia, said, "It is encouragingto receive such honours and to learn that the efforts of charities and NGOs are being recognized and appreciated. These awardsare a testament to the success we have achieved in the last 17 years in India in providing quality comprehensive cleft care. Thiswould not have been possible without the support of our corporate and government partners. We look forward to more suchsupport by corporates under their CSR mandates to help expand our program further and spread many more smiles."
Since it started its programme in India in the year 2000, Smile Train has provided training, funding and resources to empower local doctors and hospitals across India to provide cleft repair surgery and comprehensive cleft care at zero cost to patients within their own communities. This 'teach a man to fish' sustainable model has enabled Smile Train India to provide over 4,75,000 free, safe and quality-assured surgeries through a network of over 160 partner hospitals.
Smile Train India receives support from corporations including Tata, Bajaj Group, The Himalaya Drug Company and Indiabulls Foundation. It has partnered with various state governments in India under the National Health Mission. Border Security Force (BSF) and Sashastra Seema Bal (SSB) are Smile Train India's outreach partners in border and hard-to-access areas.