Solapur: 2 Doctors arrested for conducting 36 illegal abortions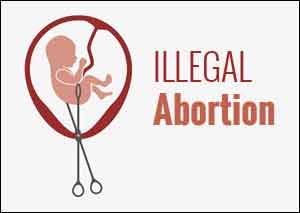 Solapur: A doctor couple has been arrested for allegedly carrying out illegal abortions at their hospital at Akluj in the district, the police said.
Dr Tejas Gandhi (42) and his wife Dr Priya were apprehended on Friday from a maternity and nursing home, run by them in Akluj, for alleged violation of the Medical Termination of Pregnancy (MTP) Act, they said.
According to the police, it is suspected that as many as 36 illegal terminations of pregnancy have taken place at their facility and in five cases, sex determination was conducted at the nursing home's sonography centre, registered under Priya Gandhi's name.
A complaint against the duo was registered by Solapur civil surgeon M R Pattanshetty at the Akluj police station.
A senior inspector at the police station Arun Sawant said the couple was arrested under relevant sections of the MTP Act and for causing miscarriage, and disappearance of evidence of the offence.
Pattanshetty told PTI that he had received information from his Satara counterpart about the illegal activities being carried out at Gandhi's hospital in Akluj.
He said the Satara civil surgeon came to know about the clinic after an NGO 'Lek Ladki Abhiyan', reportedly exposed two doctors in Satara, who had facilitated abortion of a married woman from Wai at Gandhi's nursing home.
"As per information, we raided the nursing home on Thursday. It was found that the clinic was an unauthorised," he said.
The officer said a register was found at the hospital which contained names of 36 women. And, in front of the names, some gynaecological procedures, done for miscarriage or abortion, were mentioned, the police said.
Pattanshetty said, the (sonography) centre and the machine have been sealed and the process of registering a case in the JMFC court under Pre-Conception and Pre-Natal Diagnostic Techniques Act (PCPNDT) has been initiated.