Soon, Dentists to Become Physicians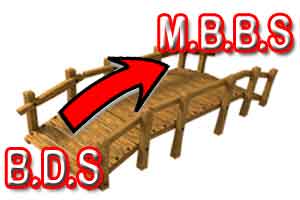 Lucknow: Dentists may be soon trained to treat allopathy ailments. Dental Council of India is reported to have proposed a bridge course to as to enable dentists to become an MBBS doctors.
This proposal is being put forward as a single largest solution to the two major problems standing tall in face of Indian healthcare sector today. On one hand there is a severe shortage of MBBS doctors particularly to serve in the rural areas, on the other hand dental students are currently facing a large problem of placements and recruitments after the completion of their courses.
"The proposal has been framed with the help of Medical Council of India and would be placed before for the ministry of health and family welfare for active consideration soon," said DCI president Dr D Majumder who was in the city to participate in King George's Medical University's dental faculty foundation day function.
"Dental students and medical students walk the same path in the beginning but deviate towards their specialities after the third year. The bridge course would eliminate the academic gap between the two streams and help dental students become MBBS doctors," Majumder further told
TOI
.
Currently there is strong deficiency of qualified professionals at the PHC level. The shortfall of allopathic doctors at PHCs as compared to requirement based on existing infrastructure  is 11.9%. Moreover, as compared to requirement for existing infrastructure, there has been report a shortfall of 83.4% of surgeons, 76.3% of obstetricians &gynaecologists, 83.0% of physicians and 82.1% of paediatricians. Overall, there was a shortfall of 81.2% specialists at the CHCs as compared to the requirement for existing CHCs.
"The fact that there is an acute shortage of doctors in the country and the effective delivery of health care services cannot be guaranteed without the availability of doctors in adequate numbers, testifies to the point that the system of medical education, as regulated by the Medical Council of India, has not been able to address the many unmet health care needs of our health system and needs reforms urgently." noted the Parliamentary report on health
The committee further noted that the country has a doctor-population ratio of 1:1674 against the WHO norm of 1:1000. At present, every year around 55000 doctors and 25,000 PG doctors are passing out from various colleges. At this rate of growth, the country should have a doctor (allopathic)-population ratio of 1:1250 for a population of 133 crores by 2020 and 1:1075 by 2022 (population: 136 cores). Morever, an expert who deposed before the Committee, noted that doctors cannot be produced overnight and if we add 100 medical colleges every year for the next five years, only by the year 2029, will the country have adequate number of doctors.