South Delhi Radiologist arrested by PCPNDT Cell for running sex determination racket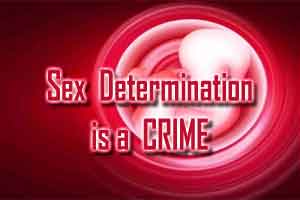 New Delhi: A South Delhi based radiologist along with his accomplice have been arrested for allegedly running prenatal sex determination racket at a hospital in Central Delhi.
The case concerns 60-year old doctor, Dr Ahuja who hails from Chandigarh, and completed his MD from Patiala University. He is a visiting doctor Jeewan Hospital and two other hospitals in south Delhi.
According to media reports, the doctor and his assistant were caught red handed at Jeewan Hospital Gate Number- 2 in Sunlight Colony area by a joint team of pre-conception pre-natal diagnostic technique (PCPNDT) cell of Haryana and Delhi's health departments. A case had been registered under the PNDT Act.
The team busted the racket after sending a decoy customer to the agent of the doctor who charged Rs 30,000 for the sex determination and took R 14,000.  During the sex determination, the decoy customer gave signals after which the team conducted the raid.
"A pregnant woman from Haryana's Sonepat was sent to Kavita as a decoy with Rs 30,000 marked banknotes. Kavita took Rs 14,000 from her and brought her to Jeewan Hospital Gate No-2 to determine the sex of the child. Dr Ahuja agreed to perform the test and received Rs 12,000 from the decoy customer, "the SDM informed HT.
The PNDT team got their hands on many types of equipment that were used to carry on the procedure for the banned test.
The SDM further added that the marked banknotes were collected from the doctor as well as his assistant. They found three bags from which Indian, as well as foreign currency notes, were seized and also there was no record of the decoy customer's admission in the hospital was found.
Meanwhile Deputy Commissioner of police (southeast), Chinmoy Biswal informed 
HT
, "Three ultrasound machines, Rs12,000 that the doctor took from a decoy customer, USD 76,101; 50 pounds, Rs 20.79 lakh, Rs 18,500 in old Indian currency notes and an envelope containing Rs1.32 lakh were seized from the ultrasound room of the hospital. Kavita was also caught in possession of Rs 14,000 that she had taken from the decoy customer. Ahuja is a visiting doctor at the hospital for the past 12 years. Kavita was his agent," said Chinmoy Biswal, deputy commissioner of police (southeast).
A complaint has been registered and the duo have been arrested.
According to the police officials, the potential customers were brought through hospitals in Delhi and Chandigarh. They charged Rs 30,000-40,000 for each test.