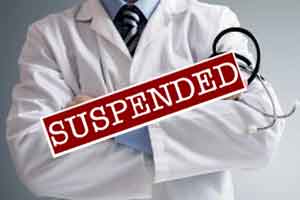 Mumbai: The issue of multiple registrations with different medical councils in different states is reported to have led to yet another loophole after a trend has been observed that medical practitioners suspended by one state medical council are seen going to another state and practising by making a fresh registration with the other state medical council
In order to keep a check and prohibit the illegal medical practice of suspended doctors in other states, the state medical councils have now decided to share their information online so that they cannot practice in the jurisdiction of other states as well.
According to media reports, the move came after a few affiliated doctors at Maharashtra Medical Council (MMC) were suspended for getting themselves in to malpractices in the profession. There were incidents where doctors had been caught for being involved in the sex determination rackets and other incidents. While these doctors were suspended by MMC, some of them started practicing in other states without taking non-objection certificate (NOC) from MMC. Due to multiple registrations, enforcing disciplinary actions against them had been difficult.
Read Also: Bring Hospitals, Nursing Homes under our Ambit: State Medical Council tells Maha Govt
Dr Shivkumar Utture, president of MMC told the Asianage, "Doctors who are caught for wrongdoing and suspended by the medical council cannot practise illegally in other states now. All state councils will share information internally. This data will come up during registrations and all councils will be immediately alerted about an individual. Suspended practitioners won't be able to work illegally in other states."
The MMC president told Pune Mirror, "Doctors who are suspended by one medical council and want to practise in other state council illegally can't do so now. All state councils will share information internally and curb malpractices. This data will come up during registrations and any council will be immediately alerted about an individual."
Medical Dialogues earlier reported that the currently MCI maintains a register only of particulars of medical practitioners of states/UTs where there are no independent state medical councils. Wherever the state medical councils exist under a State Act, every doctor practicing in that state/UT need to register with that state medical council  iin order to practice in that particular state/UT
Read Also: Myths about Medical Council Registration Busted
In 2016, Medical Council of India had announced the decision of having one MCI number- a UPRN that would act as an Aadhaar card of doctors to , which was indeed hailed by the fraternity when it was announced. The UPRN number stands as a solution to a number of issues that are plaguing the medical practitioners across the country, including duplicate registrations across various states, renewal of registrations, as well as that the growing menace fake medical practitioners. Moreover, it would finally help the regulator create a National Registry of Doctors. Till date, no one in the country, not even the Medical Council of India has any idea of how many doctors are actually practising in the country and in which domain, a fact which stands as a basic requirement for any public health policy in the country.
Read Also: 5 Critical Decisions before the new MCI Board of Governors
6 comment(s) on State Medical Councils to share Online-the information on suspended doctors