PHD Chamber's International (3D Virtual) Health & Wellness Expo Conferences-2020 inaugurated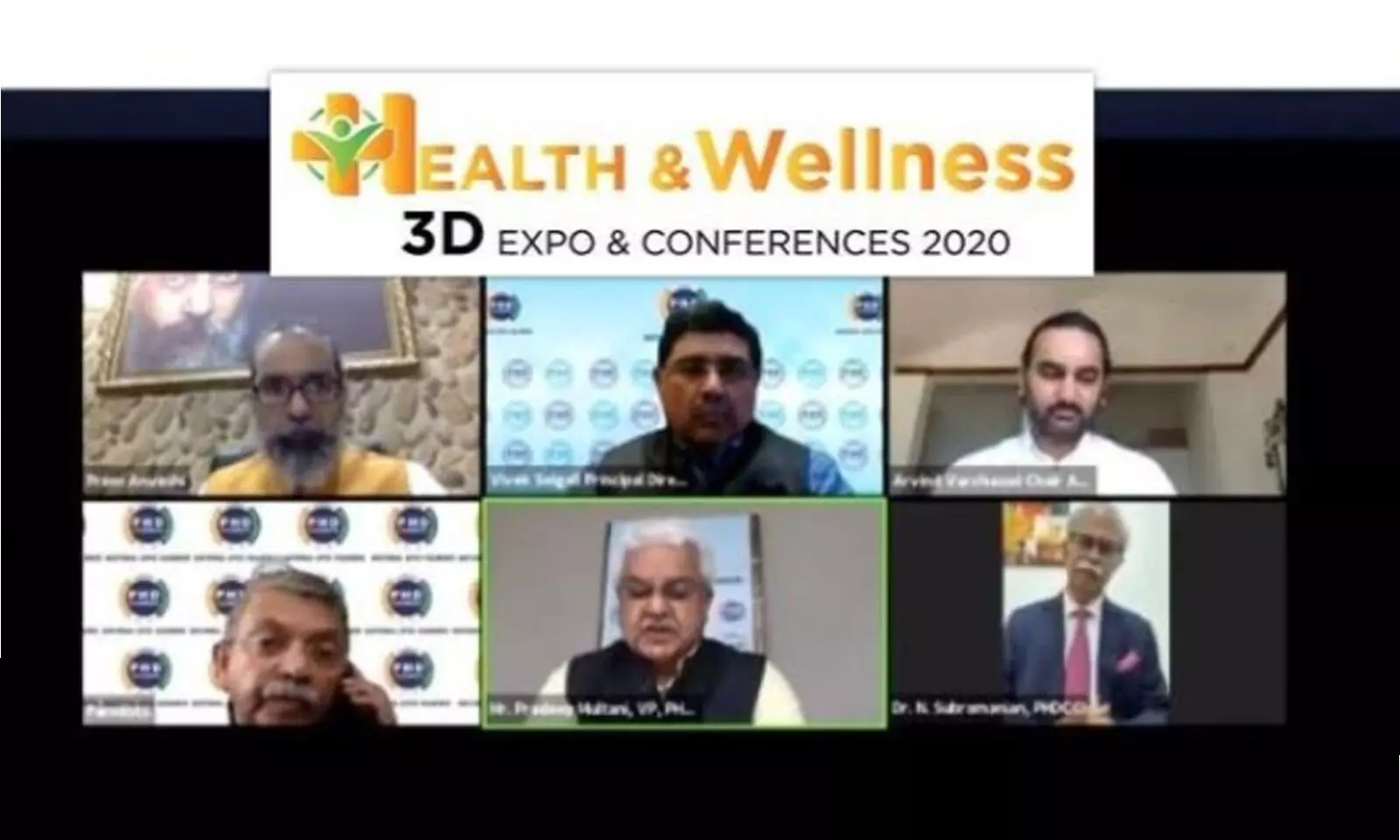 New Delhi - The International (3D Virtual) Health & Wellness Expo & Conferences-2020 of Ph.D. Chamber of Commerce and Industry was inaugurated on 21st August 2020
The dignitaries present during the virtual Inaugural session were Mr. Pradeep Multani, Vice President, PHD Chamber, Dr. N. Subramanian, Chairman, Health Committee, PHD Chamber & Director, Medical Services, Indraprastha Apollo Hospitals, Mr. Arvind Varchaswi, Chairman, AYUSH Committee, PHD Chamber & MD, Sri Sri Tattva, Mr. Vivek Seigell, Principal Director, PHD Chamber, Mr. Saurabh Sanyal, Secretary-General, PHD Chamber and Mr. Prem Anveshi, MD, Futurex Trade Fair & Events Pvt. Ltd.
Read Also: AIIMS Delhi: Dr Harsh Vardhan inaugurates Voluntary Blood Donation Campaign
The session commenced with the Presidential Address by Mr. Multani in which he mentioned about the various initiatives PHD Chamber is taking to support the Industry members during these challenging times. He added that this Virtual expo is one more initiative by the Chamber which will bring the opportunity to interact with the stalwarts of the Health & Wellness industry for Innovative products & solutions in a unique 3D virtual way. It will be an appropriate platform for all the stakeholders starting from Pharma, medical device, healthcare delivery, diagnostics, clinical trial, research & innovation, AYUSH – denoting Ayurveda, Yoga, Unani, Siddha, Homeopathy and wellness to showcase core Indigenous capacities and seek opportunities for collaborations to enhance capacities and market reach.
It was followed by the Healthcare Industry remarks by Dr. Subramanian in which he stated that under the Health Committee of PHD Chamber, we have sent 11 representations to around 125 stakeholders and different Government Authorities. He mentioned that working with the Industry, the Health Committee of the Chamber has also organized many webinars during COVID times on Hospital Infrastructure, Cancer Care, Digital Health, Medical Device Industry and workplace wellness. Health Committee is working with Our NHS Our Concern, a think tank from United Kingdom on various programs on Healthconomics with participants from India & UK. He added that despite of so many job losses across the world the industry has managed to survived and also has put in its best of efforts to extend all possible support to the Government.
Post the industry remarks, Shri Varchaswi delivered his AYUSH Industry Remarks during which he said the uncertainty, worries related to finances, childcare, elderly parents, and job security have disrupted our routines, our lifestyles and mental health. He stated that Wellness is an active process of becoming aware of and making choices toward a healthy and fulfilling life. Wellness is more than being free from illness, it is a dynamic process of change and growth. He added that having good health doesn't only mean having a good physique, but it also requires possessing a healthy mind.
Mr. Anveshi, in his address, explained how the platform of the digital expo is highly interactive and will be a unique experience for all the participants. He stated that this is the first in the world's 3D virtual expo on a gaming platform. Mentioning about health and wellness, he quoted that people these days, try to repair software problems by repairing hardware and hence are not able to get the issues rectified. Similarly, the modern-day medicines can treat the physical ailment but they cannot treat the mental ailment. He added that physical strength comes from mental strength and vice-versa, referring to the incident of Eklavya hitting the eye of the fish by looking at its reflection in the waving water.
The Session concluded with the formal vote of thanks by Mr. Saurabh Sanyal, Secretary-General, PHD Chamber, in which he thanked all the dignitaries on the panel, the exhibitors, the partners & sponsors for their contribution. He mentioned that this 5 days Exhibition will attract manufacturers & dealers of Pharma, Medical Device, Healthcare Delivery, Diagnostics, Clinical Research, AYUSH & Wellness Industry on one platform to interact, network and generate the business opportunities as well as the Knowledge sharing technical sessions will provide a way forward in these sectors for technology transfer and industry trends.
The session was moderated by Mr. Vivek Seigell, Principal Director, PHD Chamber.
The session was attended by around 200 attendees through zoom, Youtube and through the exhibition Conference platform.
Read Also: Dr Harsh Vardhan inaugurates Thalassemia Screening and Counselling Centre at Indian Red Cross