Gurugram Medical College Final year MBBS students to join Health department amid COVID outbreak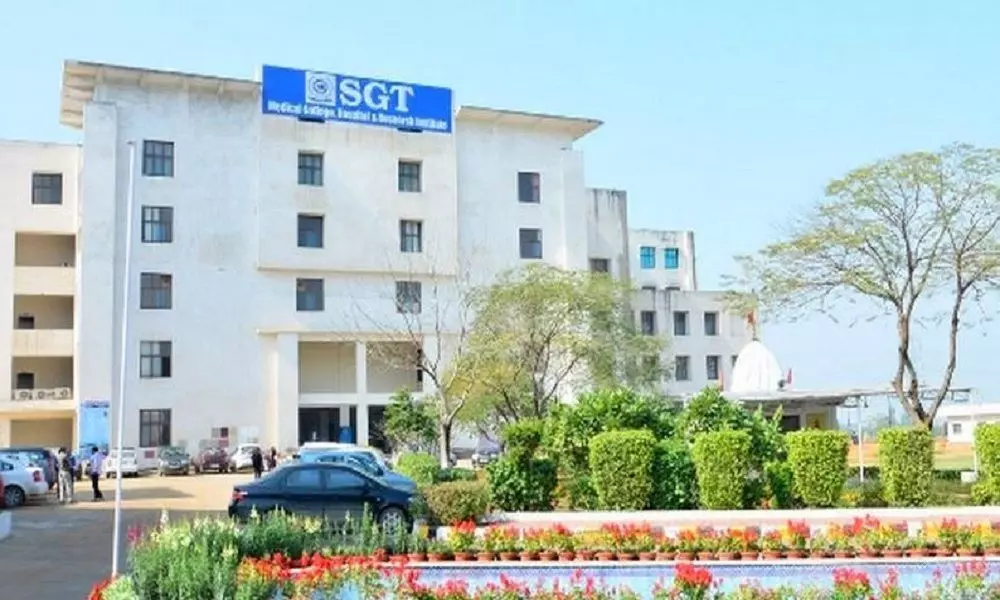 Gurugram: 96 final year MBBS students along with 39 paramedical staff of SGT Medical College Hospital and Research Institute in Gurugram have been deployed as instructed by the government to be a part of the health department.
With the increasing number of COVID victims especially in the state of Gurugram, the government has previously decided to deploy final year MBBS students to work with the healthcare department.
According to the media report, following the government's decision, the students of SGT college are all set to be a part of the health department's surveillance team. They will be in charge of monitoring contact tracing and antigen testing in their assigned districts.

The state health department bulletin said the total number of fatalities in the state has risen to 160 and the total number of COVID-19 affected victims in Haryana has already crossed 10,635 on Sunday. Considering this, previously Haryana government had issued the notice to 11 Government and some private medical colleges instructing them to deploy almost thousand final year Medicos for the help of government health facilities.
Medical Dialogues had reported that with the increasing number of COVID cases in the state, the Haryana state government had taken a new strategy of deploying 1,106 final year MBBS students with the health department. All the final year medicos have been instructed to report to the Civil surgeon of district concerns by June 22nd. The government has decided that 1106 students of 11 government colleges and some other private medical colleges should be appointed in various medical facilities.
Director of state medical education and research department (DMER Haryana) had given notices to all medical colleges and civil surgeons on June 19th stating, "The directors of Medical College and civil surgeons shall ensure to provide all necessary training to the MBBS doctors for effective tackling and management of COVID 19. The services of the students be used as per the guidelines issued by the government of India".
The Director-General of Medical Education and Research, Haryana, with this letter, instructed 204 students of Pandit Bhagwat Dayal Sharma PGIMS, Rohtak to report to their assigned Rohtak, Bhiwani, Charkhi Dadri, Rewari, and Fatehabad districts; while 100 students of BPS Government Medical College for Women, Khanpur Kalan will be serving in Sonepat and Jind districts;100 students of Maharaja Agarsen Medical College, Agroha, have been appointed in Hisar and Sirsa districts;103 students of SHK Government College, Nalhar (Mewat) will be assigned in Nuh, Palwal and Mahindergarh districts.
Moreover, 96 students of SGT Medical College, Gurugram will be appointed at Gurugram, two students of NC Medical College will be serving at Panipat, 150 students of Adesh Medical College, Kurukshetra will keep serving at Kurukshetra, Panipat, and Kaithal; 21 students of World Medical College, Jhajjar, have been assigned duties in Jhajjar district. Other than that, 79 students of Kalpana Chawla Medical College, Karnal will be performing duties in Karnal and Jhajjar district; 150 students of MM Institute of Medical Sciences, Mullana will be serving at Ambala, Panchkula, and Yamunanagar.
Read Also: COVID 19 battle: Haryana deploys 1,106 Final year MBBS students
Now, one of the faculty members of SGT college recently told TOI " We received a letter from the state government on Sunday stating that final year MBBS students should report to the Civil surgeon. They will render services as required and will be trained by the health department. Since the students are not in college at present they have been on vacation since with March, we have communicated the order to them. We have told them to report the Civil surgeons as soon as possible".

However, both the students and the parents both have expressed their concerns regarding the transportation and the Recommendation of this Medicos.
The chief medical officer, Dr. Virender Yadav has assured that all the accommodations and transportation will be provided to the doctors by the state government while ensuring safety and security. He added "we expect all final year students and paramedical students to join as soon as possible. They will be utilized for active surveillance and antigen testing. Their boarding and lodging will be discussed with the authorities. If they can stay in their hospitals, we will arrange transportation facilities for them to the places where they will be deployed. Otherwise, we will make alternative arrangements for them."
Source : with inputs.