Violence Against Doctors: Karnataka Medical Council seeks police protection, urges restraint on behalf of all medical fraternity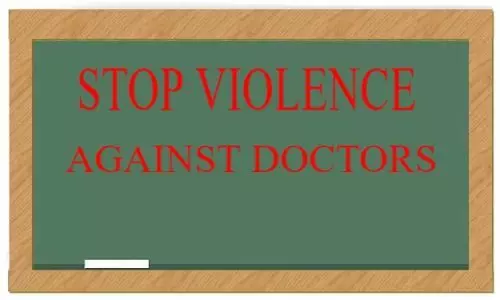 Considering all these incidents, Karnataka Medical Council has sought police protection and also requested restraint on behalf of all the medical community.
Karnataka: With back to back instances of crowd vandalizing hospitals due to the unavailability of beds in COVID ward, the Karnataka Medical Council (KMC) has requested for restraint from citizens and urged all the people to extend their help and cooperation in order to handle the prevailing pandemic situation.

At a time like this, when the medical community is extending their services day and night to handle the pandemic, this kind of violence by the citizens has brought fear into the medical community. To contain the situation, the Council has now taken a measure to curb violence against doctors and
ensure the safety and security of the hospital workers.
Due to the rapid increase in COVID cases for the last few days, many hospitals have denied admission to patients which resulted in angry patients and their relatives manhandling the health workers as well as destroying hospital properties.
Medical Dialogues team had earlier reported that among the recent cases, the case of KG General Hospital in Bengaluru had been reported where doctors were attacked by the attendants of COVID-19 patients as the patient who was suffering from respiratory trouble and breathing problem passed away after the sudden fall on his oxygen level due to the unavailability of Intensive Care Unit. The problem even complicated as the relatives of the deceased claimed the body but the hospital tried to follow the protocol during the disposal of a body.
In the Belgavi Institute of Medical Sciences also a mob vandalized the hospital and set ablaze an ambulance in the facility premises. The mob included the enraged relatives of a patient who had succumbed to COVID at the hospital during treatment alleging that the hospital was negligent towards treating the patient.
Considering all these incidents, KMC has sought police protection and also requested restraint on behalf of all the medical community.
H. Veerabhadrappa, president, KMC, told
The Hindu
"It is true that some patients are not getting admission as there are neither enough beds nor enough staff. Patients are also stressed and angry. But attacking doctors and hospital staff because that is not the answer. We condemn the violence. Police protection will be ideal, particularly for COVID-19 hospitals."
Prasanna H.M president-elect, Private Hospitals and Nursing Homes Association (PHANHA), told the daily, hospital at Basaveshwaranagar too came under attack recently. "After a patient's death, the attendees attacked the hospital premises. Our security personnel were able to avert further damage and we sounded out the local MLA and police station. A Hoysala has been stationed outside the hospital now. I think similar security is needed for other hospitals too".
Source : with inputs