Overburdened with COVID duties, PG doctors in Kerala go on strike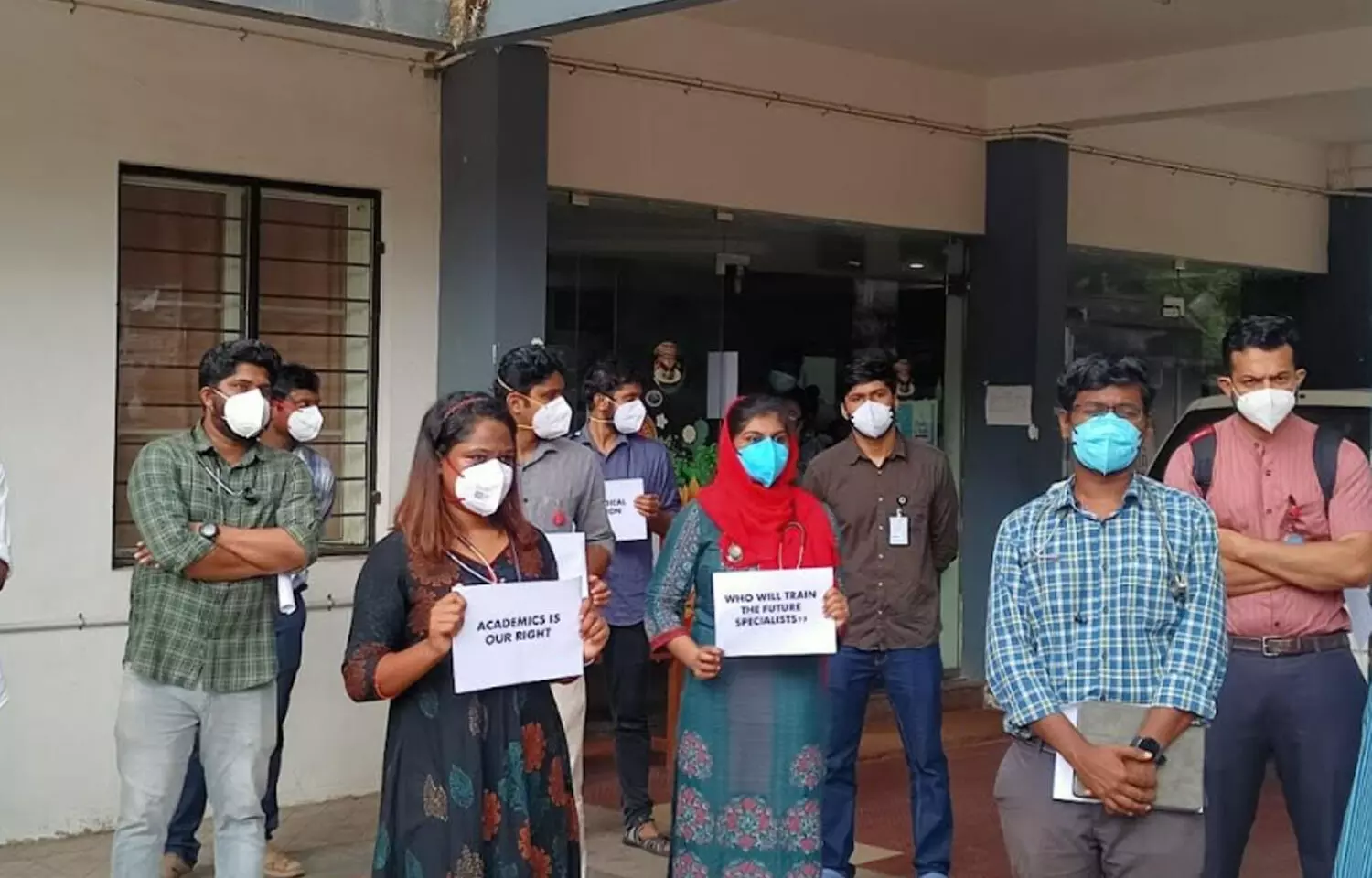 Thiruvananthapuram: PG doctors in Kerala have gone on a 12 hour-long token strike today demanding decentralization of COVID patient load to peripheral non-teaching institutions and additional workforce to reduce the excessive workload on the PG medicos.

Coming under the banner of the Kerala Medical Post Graduate Association (KMPGA), the PG medicos have boycotted OPD work, ward duties, and non-emergency services from 8 am to 8 pm. However, casualty duties, emergency services, ICUs, and COVID duties remained unaffected.
The other demanded of the PG doctors included an increase in non-academic SR Posts, initiating incentives and risk allowances, decongestion of medical college hospitals of extra ICU beds, posting of final year MBBS students as house surgeons, and initiating a 4% hike in stipend.
In a recent press release, the association stated, "Keeping in mind that every resident gets only 3 years to acquire the skill set required for their specialties, we've already sacrificed an entire year of this precious 3 year in view of this pandemic. We have been tirelessly working in the COVID pool duties with-out any dissent of any kind, sabotaging our usual clinical exposure and academics."

Dr Athul Ashok, state president of Kerala Medical Post Graduate Association (KMPGA) told Medical Dialogues, " We are overburdened with COVID duties for the last one and half years and it is greatly affecting our training. I myself have very few chances to perform elective surgeries. Non-Covid patient care has been crippled in the MCHs and patients are often deprived of treatment in other medical emergencies. Hence, decentralization of Covid patient management is a must. The COVID load must be shared with peripheral non-teaching institutions to bring down the rush at the medical college hospitals."
"A patient with COVID symptoms are usually transferred to MCHs but there should be an intermediate system via district or taluk hospital and only in critical cases they should be referred to MCHs so that normal functioning and academic activities of the MCHs can resume", added the doctor.
Commenting on the issue of workforce crunch, he pointed out, " There is a marked scarcity of over 100 intern doctors in each medical college. Moreover, right now, there are only two batches available for duties in Medical colleges as the final years have completed their courses and are waiting for their exams and as the 2015 Batch is completing their extension as non-Academic JRs, the medical colleges of the state are facing a serious shortage of manpower. With the NEET exam being scheduled in September, it is becoming difficult for us to handle the work pressure. We need more hands at work"
The association members stated that they have already approached various officials including the Principals, Hospital Superintends of every medical college, and also to the DME, honourable Governor, and the Health Minister but the issues remained unsolved till date. The director of medical education also had a discussion on Sunday with the medical students but the talks remained inconclusive since several demands raised by them were not considered after which the PG doctors staged the protest today.
Dr Naveen R, state secretary of the association stated, " We have been raising our demands for the last 6 months but there has been no progress. We have been working day and night for the past one year without any complaints, however, considering that we are going to be specialists it is important to complete our training and gain practical knowledge in our respective fields. If we are overburdened by COVID, our academic activity will suffer, Hence, decentralization of COVID cases is necessary. The postgraduates need proper training in their respective fields. the academic programs have been severely compromised and Zoom classes are in no way a replacement for clinical classes where hands-on training is a must."
In the press release, KMPGA stated, " As informed by the DME, 76 SR seats were approved by the financial department, but the notification regarding allotment of these posts is yet to be issued. As there is a large disparity between the number of PG seats and Non-Academic SR seats, a good number of speciality trained doctors are waiting for SR seats to open up, without being able to join other institutions or hospitals."
Taking up the issue of decongesting medical college hospitals of extra ICU beds that we cannot support due to severe shortage in human resources, Dr Naveen stated, " ICU units are called as such, as they need to meet certain criteria. We do not have such patient to health worker ratio. These can be shifted out to peripheral hospitals with proper training for the health workers posted there."
The association also sought to re-establish the annual 4% hike in stipend as sanctioned by the last government in par with the inflation rates in India.
When questioned about the further plans of the association, Dr Athul stated, " We are only holding token protests now as we don't want to create inconvenience for the patients. However, it is important to raise our grievances so that our situations are not ignored anymore. We are hopeful that authorities will take note of our grievances but in case they fail to do so, we might consider going on indefinite strike."