MP: Woman doctor, nurse attacked, held hostage at COVID patient's house, family booked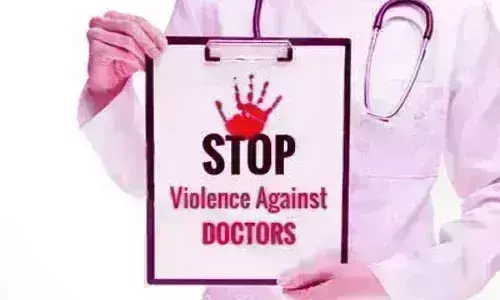 Bhopal: A scuffle broke out between the police and the kin of a Covid-19 patient while the cops were trying to rescue a woman doctor and a nurse, who were allegedly attacked and held captive at the patient's house in Banjari village of Khandwa district on Sunday afternoon.

The incident captured on video reportedly pertains to a series of ugly incidents at the house of the young COVID patient.
The 20-year-old youth tested COVID positive on Sunday. Accordingly, the Health Department team paid a visit to his home to check on his health status as per the protocol so that they can determine whether to put him under institutional quarantine or not.
The team included a woman doctor and a nurse. However, when they reached the patient's place, the family members, instead of cooperating with the health department team allegedly attacked them and some of the team members sustained injuries.
Thereafter, the team was held captive in the patient's house.
Soon the police were informed and a team from the local Chegaon Makhan police station reached the spot and tried to defuse the situation to free the health department team. It resulted in a conflict between the family members and the police team which escalated into a physical assault.
Also Read: Even very low Diastolic BP not tied to increased risk of MI, finds study

According to ANI, two policemen were taken off duty as a consequence of the assault on the family. On the other hand, a case has also been registered against the family and further investigation is underway. "The Chhaigaon Makhan police station in-charge and a constable were 'line attached' (taken off field duty and deployed in police line as punishment) in connection with this incident", said the Superintendent of Police (SP), Vivek Singh.
Meanwhile, following the complaint of the health department team, a case has been registered under Sections 353, 332, 342, 34, 506, 294, and 188 of IPC and 52 of the Disaster Management Act against the COVID patient, his father, mother, and sister.

However, the family members of the COVID patient denied all the charges of attacking the health department team and insisted that the police team suddenly barged into their house, took their son, and started assaulting the family members, reports New Indian Express.
Commenting on the incident, the Superintendent of Police (SP) stated "Medical team who visited a village was beaten and held hostage by patient's family. Police went to rescue the team and the family of the patient attacked them too. Our team acted on it in retaliation and left a few injured," reports ANI.
Both Congress and the BJP leaders demanded strict action against the cops who assaulted the family. On the other hand, the health team has also lodged their complaint against the family members, reports ANI.
Source : with agency inputs