Guard of Malda hospital poses as medical Superintendent and treats patient; now absconding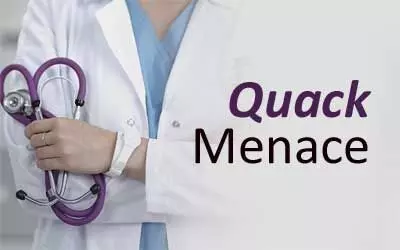 Malda: In a case of quackery, the man working at the rural hospital in Malda district had been impersonating as the Medical Superintendent and treating patients while taking consultation fee.
The accused has been identified as a guard of one of the Malda based hospitals who attended patients in the quarters of Gazole Hospital's Medical Superintendent while he was on a leave since October 4th. However, the accused has been absconding and police are still trying to nab the offender.

According to a recent media report, the whole sham came to light after one of the patients suspected quackery and informed the hospital authorities. The woman claimed that she wanted to consult a doctor as she was having a tumour in her uterus. She visited the hospital but before she can enter the outpatient department, one person acting as a broker approached her and advised her that she should consult the superintendent who also accepts patient in his quarters. "the superintendent is available in his quarters where he occasionally sees patients the person told me", informed the patient.

After that, the woman visited the quarters but in the absence of the real medical superintendent the guard impersonating as the doctor treated the women. After examining her physically, he also prescribed certain medications on the official letterhead of the medical superintendent. However, the patient became suspicious when the fake doctor asked her to buy medication from outside and not from the hospital, reports the daily.
The patient thought why must she buy medicines from outside when it is available in the hospital free of cost, after that she reached the hospital and displayed the prescription. The hospital doctors were in utter shock as they were informed that the medical superintendent was on leave.
One of the hospital sources told
The Telegraph
that "the on-duty doctors were taken aback to see that the prescription was issued by the superintendent, who they said, was on leave. Immediately a hullabaloo was created, and the guard at the quarters scampered off. The caretaker is detained but he is refusing the charges that he knew anything about this impersonation."
The hospital immediately informed the Districts Health officials and the police. The District health authorities, after taking cognizance of the whole situation have already started an investigation.
The Chief Medical Officer of Health, Malda stated "We are collecting information about the incident. If the allegation is found to be true, stern action would be taken against all persons concerned." The accused guard is still absconding and police are trying to get hold of him. On the other hand, the caretaker of the quarter has been detained by the hospital authorities for questioning.
Source : with inputs